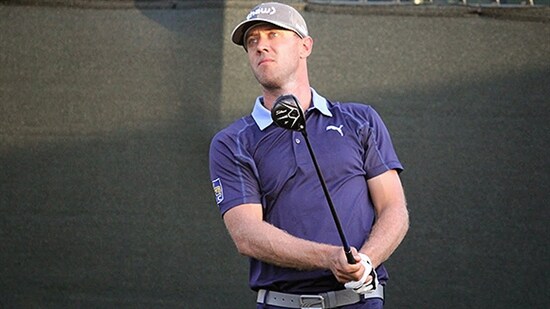 Team Titleist caught up with Titleist Brand Ambassador Graham DeLaet during the Travelers Championship pro-am on Wednesday and got his reflections on what it takes to succeed at TPC River Highlands. DeLaet, a 2006 Boise State graduate and native of Saskatchewan, Canada, has mounted a solid 2015 campaign that includes two top 10's and three top 25 finishes coming into the week.
"I really enjoy playing here," said DeLaet, who is playing in the Travelers Championship for the sixth consecutive year. "It is probably one of the most fun courses we play on tour all year. Depending on weather conditions the winning score could be anywhere between 10-under and 20-under. You just never know. We got some torrential rain yesterday so the course is playing a little soft right now. If that stays true some guys could go low."
The course will play to 6,841 yards and a par 70.
"The track is not real long by tour standards, but it gives you a lot of different club options of the tee," said DeLaet. "It allows you to use every club in your bag and really makes you think about how you want to play certain holes. Course management will be a key to success because there are a lot of risk-reward opportunities that can help you gain or possibly lose momentum during a round."
Last year's winner, Titleist Pro V1x golf ball loyalist Kevin Streelman, birdied the final seven holes to win by one shot.
DeLaet specifically pointed out hole Nos. 15-18, describing them "as the most exciting closing stretch we play on tour. Depending on where you stand when you get to No. 15, you have to decide whether to go for the reachable par 4 or not. If you are off line you could get into big trouble with water on the left and sand on the right. If you get it on the green you have a shot at eagle. Water also comes into play on each of the next three shots, including the tee shot on No. 16, and the tee shot and approach shot on No. 17. You need a great tee ball in order to have a shot at birdie on No. 18."
DeLaet has already started the week off in the right direction by winning the sixth annual 15 ½ Charity Challenge presented by Travelers during Tuesday's practice round.
The 15 ½ hole is a 40-foot wide, 15-foot long floating green shaped in the form of the Travelers red umbrella logo. The green bobs on the surface of the pond bordering the 15th, 16th and 17th holes. As players come off the 15th green, they each take at shot at hitting the tiny target. Graham won top honors this year, recording the closest shot to the pin at two inches.
Travelers will donate $10,000 to the Graham and Ruby DeLaet Foundation, a foundation the DeLaets created to improve the health and wellness of children, as well as supporting the development of junior golfers at all stages.
Congratulations on the great shot, Graham, and good luck this week!
WHAT'S IN GRAHAM DELAET'S BAG
Golf Ball: Titleist Pro V1x
Driver: Titleist 915D4 (8.5º)
Fairway: Titleist 915Fd (13.5º)
Irons: Titleist CB 714 (3-5) and MB 714 (6-9)
Wedges: Vokey Design SM5, pitching (46º), sand (54º) and TVD K-grind lob (60º) wedges
Take a closer look at the closing holes at TPC River Highlands in the gallery below: