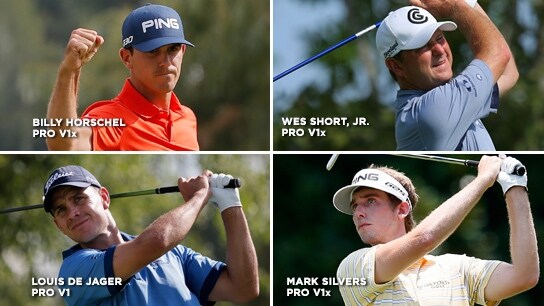 Determination, grit and focus were all on display Sunday afternoon at the BMW Championship as Titleist Pro V1x loyalist Billy Horschel posted a final round 1-under 69 to secure the victory and move into second place in the FedEx Cup standings.
"Yeah, it's great to win this championship," said Horschel during his post-round interview.
"I felt pretty good starting the day off. I had a great warm-up session on the range. I hit a really good drive on No. 1, made birdie. Hit a bad second shot on 2, but came back with another birdie. After that I was sort of on grind mode."
And for Billy, being in "grind mode" means keeping just about every aspect of his game sharp as he ranked in the top 15 for the tournament in Driving Distance (9), Driving Accuracy (14), Greens in Regulation (2) and Strokes Gained Putting (1).
Billy also credits this win to hard work with his team and his focus on constantly improving as a player.
Billy will be looking to carry this momentum of solid play into the Tour Championship this week.
"I'm a lot better player than I was six months ago. I understand my game a lot better… we have worked hard to become better players and do the right thing course management wise. And this is just another stepping stone to hopefully a lot bigger things in the future."
It's this type of focus and determination that we can all appreciate and hope to add into our own golf games.
Congratulations, Billy!
WEEKEND HIGHLIGHTS FROM THE WORLDWIDE PROFESSIONAL TOURS
Titleist Pro V1x loyalist Wes Short Jr. eagled the final hole to claim his first Champions Tour victory at the Quebec Championship. Short shot a final round 8-under-par 64 to complete a three day total of 15-under-par 201. It was also a great week for Titleist golf ball players as the top 9 finishers all trusted a Pro V1 or Pro V1x golf ball.
On the Sunshine Tour, Titleist Brand Ambassador Louis de Jager captured the Vodacom Origins of Golf – Wild Coast on the first hole of a three-way sudden death playoff that also included Titleist Pro V1x loyalist Haydn Porteous. The win marks De Jager's second career Sunshine Tour Title.
To round out the week's success, Titleist Pro V1x loyalist Mark Silvers captured his first career Canadian Tour victory by winning a playoff at the Cape Breton Celtic Classic. Silvers shot a final round 6-under-par 66 for a four day total of 15-under-par.
TEAM TITLEIST BY THE NUMBERS
With another four wins this week, Titleist's year-to-date victory count advances to 127. That's more than four times the nearest competitor with 28 and more than all competitors combined.
In total, 17,968 players have teed up Titleist golf balls in competition on the 2014 worldwide professional tours, more than six times the nearest competitor with 3,004 and more than all competitors combined.

THE TITLEIST LEADERBOARD | WEEK ENDING September 8, 2014
| Tour | Event | Titleist Golf Ball Players | Nearest Competitor |
| --- | --- | --- | --- |
| PGA Tour | BMW Championship | 37 | 12 |
| European Tour | Omega European Masters | 109 | 17 |
| Web.com Tour | Chiquita Classic | 85 | 15 |
| Champions Tour | Quebec Championship | 57 | 10 |
| Canadian Tour | Cape Breton Celtic Classic | 92 | 21 |
| PGA Tour China | Chateau Junding Penglai Open | 81 | 20 |
| Sunshine Tour | Vodacom Origins of Golf - Wild Coast | 99 | 14 |