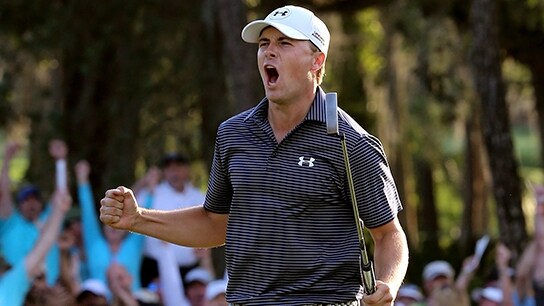 It was a clean sweep for Titleist Brand Ambassadors this week across the worldwide professional golf tours, as Titleist Brand Ambassador Jordan Spieth headlined four wins by players trusting Titleist golf balls and Titleist golf clubs green to tee.
Spieth converted a 28-foot putt for birdie (on the par-3 17th hole) on the third hole of a three-man sudden death playoff to win the Valspar Championship. He made a 12-foot putt for par on the 72nd hole to join the playoff at 10-under 274. It marked the second career PGA TOUR title for Spieth, and the third worldwide over the past four months for the 21-year old, who closed with a two-under par 69. Spieth vaults to No. 6 in the Official World Golf Rankings with the win.
Jordan Spieth: "The 2015 Pro V1x is very much an improvement for me just as each version has really improved. This one's better for me because that softer cover around the greens allows me to have more spin control and softer feel, without jeopardizing any distance or spin with the long clubs. It's still long off the tee with more control around the greens. … [The 2015 Pro V1x] feels really nice, like it's sticking to the club face more, which I like. It allows my short irons and wedges to spin a little more which is always nice around the greens, to be able to fly it closer to the hole and have it drop and stop. ... The changes to the new golf ball have been big for me and I've been playing well since changing."
Titleist golf ball loyalist Henrik Stenson (Pro V1x) finished solo fourth, one shot out of the playoff following a final round 4-under par 67.
FUN FACT: Spieth is the fourth consecutive player to win a PGA TOUR event in a playoff, all of them relying upon a Titleist golf ball for their success. He follows fellow Titleist golf ball loyalists James Hahn (Northern Trust Open), Padraig Harrington (The Honda Classic) and last week's champion Alex Cejka (Puerto Rico Open) into the winners' circle.
WEEKEND HIGHLIGHTS FROM THE WORLDWIDE PROFESSIONAL TOURS: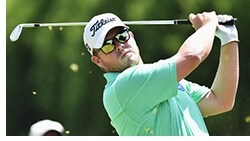 On the European Tour, Titleist Brand Ambassador George Coetzee (Pro V1x golf ball, 915D3 (10.5) driver, 915F (16.5) fairway metal, 712U (2-iron), CB 714 irons (4-PW), Vokey Design SM5 gap (50.08), sand (56.10) and lob (60.07) wedges, Scotty Cameron T10 Select Newport 1.5 putter), who was one of six players tied for the lead to start the final day, closed with a flawless 5-under par 65 to capture the Tshwane Open by one shot.
Coetzee's win came at Pretoria CC, the course where he has been a member since taking up the game and where he won his first junior competition at 10 years old. Coetzee, who posted a 14-under par 266 victory total this week, earned his first European Tour on home soil at last year's Joburg Open.
"To win at your own club in front of all your friends and family, the crowds were amazing, I could just feel the momentum building and the crowd getting bigger and bigger towards the end," Coetzee said after the victory, "It's a great experience and a very special day for me. I think I've got this course down after 18 years of playing golf! I think it played to my advantage knowing when to be aggressive and when not to."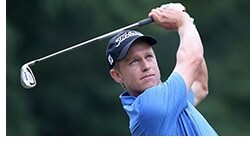 At the Web.com Tour's Brasil Champions, Titleist Brand Ambassador Peter Malnati (Pro V1x golf ball, 915D2 (8.5) driver, 915F (15.0) fairway metal, 915H (18.0) hybrid, 915HD (23.5) hybrid, AP1 714 (5) iron, AP2 714 (6-PW) irons, Vokey Design SM5 gap (52), sand (56) and lob (60) wedges, Scotty Cameron Newport 1.5 Fastback putter) birdied his last three holes for a final round 5-under 66 and a four-shot victory. It marked the second career Web.com Tour title for Malnati who fired four consecutive rounds in the 60's en route to a 22-under par 262 victory total.
Pro V1x golf ball loyalists Julian Etulain, John Mallinger, Timothy Madigan, Matt Davidson and Tyler Duncan were five of the seven players who tied for second place.
"This is a big win," Malnati said in a post-victory interview. "This is a big event. That's the best kind of stress ever. I don't know the math but this is one of our biggest purses and it doesn't guarantee me of anything, it does help a lot to get me back to the PGA TOUR and that's been my goal from the start."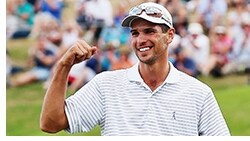 This weekend on the Australasian Tour, rookie Jordan Zunic (Pro V1x, 915D3 driver, 915F fairway metal, CB 714 irons, Vokey Design wedges, Scotty Cameron putter) captured the BMW New Zealand Open by one shot over fellow Titleist Brand Ambassador David Bransdon (Pro V1x) and was two shots clear of Titleist golf ball loyalist Kris Mueck (Pro V1x).
Needing a birdie on the final hole to avoid a playoff, Zunic knocked his approach to two feet and holed the winning putt. Zunic closed with three consecutive 6-under par 66's en route to a 21-under 266 victory total. Zunic, who turned professional in January, pre-qualified into the New Zealand PGA last week and posting a top ten finish which earned him a start in this week's Open. The victory vaults him to the top of the PGA Tour of Australasia's Order of Merit .
"I'm still in disbelief," Zunic said after the final round. "I'm trying to pinch myself to say this really happened. I knew I was playing well, but playing well and winning are two different things and I'm over the moon."
TITLEIST BY THE NUMBERS
In total, 3,835 players have teed up Titleist golf balls in competition on the 2015 worldwide professional tours, more than six times the nearest competitor with 563 and more than all competitors combined.

With four wins this week, Titleist's 2015 victory count advances to 28. That's more than three times the nearest competitor with 8 and more than all competitors combined.
THE TITLEIST LEADERBOARD | WEEK ENDING March 15, 2015
Tour
Event
Titleist Golf Ball Players
Nearest Competitor
PGA Tour
Valspar Championship
90
15
European Tour
Tshwane Open
105
23
Web.com Tour
Brasil Champions
96
15
Australasian Tour
BMW New Zealand Open
106
16