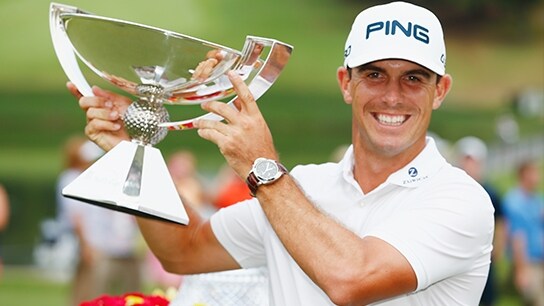 He admits that it sounds a little crazy, but Titleist Pro V1x loyalist Billy Horschel revealed that he had foreseen his FedExCup victory in a dream he experienced at the start of his 2014 PGA Tour campaign.
"There's certain things throughout my life that have come true, and I've sort of seen it beforehand in my‑‑ when I sleep at night," explained Horschel in an interview after his victory at East Lake. "I just sort of, you know, have a premonition or whatever you want to call it."
Horschel described an incident in his boyhood when he was struck in the eye with a bat during an All-Star baseball team practice. The 10-year-old Billy shed no tears at the time, as he instantly recalled a dream he had had sometime earlier that had foreshadowed the accident and prepared him somewhat for the blow.
He had a similar experience this past winter.
"I just remember something like that in December or January, I just had this‑‑ you know, I woke up and I wasn't sure if it was real or not because it was very faint, but I remember holding up the FedExCup trophy, and as the season went along, I never thought about it."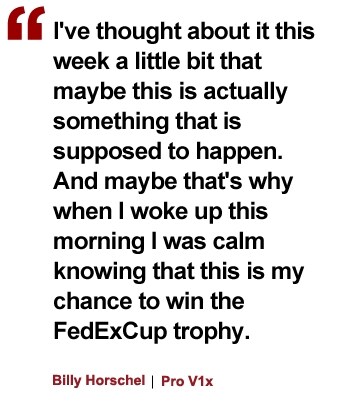 However, as his play began to take a brilliant turn in the FedExCup series, Horschel began to reconsider the dream.
"Obviously being in the position where I was, I thought about it last week after I won. I've thought about it this week a little bit that maybe this is actually something that is supposed to happen. And maybe that's why when I woke up this morning I was calm knowing that this is my chance to win the FedExCup trophy."
Whether his calm state of mind was because of the dream or simply because his three-week hot streak was now feeling like the norm, Horschel got off to a solid start in the final round of the TOUR Championship.
Teeing off in the final group, Horschel had birdie chances on the first three holes and made the turn in 2-under 33. His focus was unwavering while playing each shot, but between shots he displayed the laid back attitude that Horschel admits has been a huge key during his great run.
"I play the best when I'm relaxed. I play the best when I'm having fun out on the golf course, but at the same time I am focused on what I need to take care of on the golf course. So in between shots, I'm going to be focused but I can joke around and have a conversation, and then when it's my turn to play my shot I get back into my little zone, especially the last three weeks, that's what I've realized I need to do better, and it's turned out really well."
Horschel bogeyed the 10th, one of just 5 bogeys he made for the week, but bounced back with a birdie on 15 to regain a 1-shot lead. On the 16th, after an errant drive, Horschel showed even greater mental toughness, chipping back to the fairway rather than risk a big number coming down the stretch. He struck what he thought was a perfect wedge approach, but it came up a yard short and spun back off a ridge in the green.
On the 30-foot putt that remained, Horschel made his best stroke of the day, sending his Pro V1x golf ball in the center of the cup and converting a world-class par save that all but sealed the victory.
Horschel finished the TOUR Championship with a winning total of 11-under 269. He led the field in Greens-In-Regulation, hitting an astounding 79.17% and was 6th in the Stroked Gained - Putting category with a mark of .815.
Horschel's amazing playoff run began, oddly enough, with a missed cut at the first playoff series event, The Barclays.
"Coming home from Barclays and talking to my wife, I sort of said there's a couple of things I need to do mentally different on the golf course and be a little bit less hard on myself, get out of my own way, commit to some shots better."
Following this discussion with his wife, Brittany, and his conscious decision to adjust his outlook, Horschel's dream was set on course. And the rest, as they say, is history. Despite a misssed opportunity to win the Deutsche Bank Championship, he took away only positives from his runner-up finish.
He followed up with a convincing victory the following week at the BMW Championship and validated the win with his historic TOUR Championship and FedExCup-clinching performance.
Congratulations, Billy, from everyone at Team Titleist!