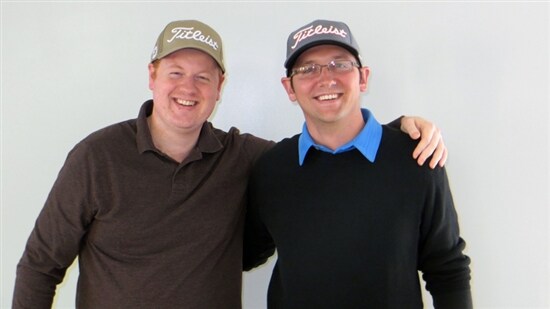 We're excited to announce the Grand Prize winners of our Team Titleist Ultimate Experience Sweepstakes - Greg Thomas and his friend Scott Spratt.

Greg and Scott will be packing their bags to join us here in Fairhaven, Mass. for a one-of-a-kind Titleist adventure.
Day one will feature a stop at Titleist Headquarters along with a behind-the-scenes tour of Ball Plant III where the guys will see how the Pro V1 and Pro V1x are made from start to finish. The tour will continue at our Custom Golf Ball facility for another up-close look at how we customize and personalize the #1 ball in golf.
But that's just the start.

After a good night's sleep, Greg and Scott will be off to our Manchester Lane Test Facility where they'll enjoy a Tour Fitting Experience with our team of expert fitters. And once the fitting is complete, we'll be building both Greg and Scott a complete bag of the latest high performance Titleist equipment to ensure they are dialed-in for the rest of the season.
We'll be sure to share some of the highlight's from Greg and Scott's experience in the coming weeks, so stay tuned!
In the meantime, thank you again to every Team Titleist member who entered the contest. We truly enjoyed reading the different stories and seeing how much passion there is for this game that connects us all.
Congratulations, Greg and Scott! We look forward to seeing you soon and welcoming you to the home of Titleist.
#TeamTitleist