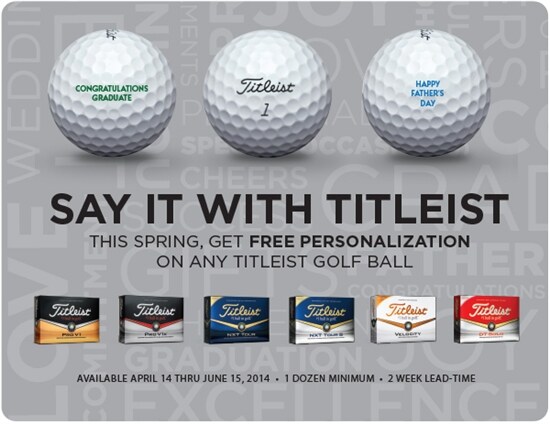 Spring is in the air and as the new golf season gets into full swing, Titleist, the #1 ball in golf, is making it easier than ever to give the golfer in your life a gift you know he or she will enjoy.
Once again, Titleist is pleased to announce that we are offering free personalization on all Titleist golf ball models.
From April 14 through June 15, 2014, personalization charges will be waived on all Titleist Pro V1, Pro V1x, NXT Tour, NXT Tour S, Velocity and DT SoLo golf balls.
On any order of just one dozen or more, customers may create their unique message imprinted on the golf ball of their choice in up to three lines of block text in Black, Blue, Red, Green or Pink ink colors.
• • •
2014 "Say It With Titleist" Promotion Details:
• U.S. customers only.
• FREE Personalization on orders received between April 14th and June 15th.
• FREE Personalization for single pole personalized orders only; Additional imprinting fees may apply for double pole personalized orders.
• Products: All Titleist golf ball models.
• Imprint: Black, Blue, Red, Green or Pink ink.
• 1 color per personalization.
• Maximum 17 characters per line, up to 3 lines of personalization.
• Minimum: 1 dozen (packaged in standard dozens).
• Additional fees may apply for orders specifying individual play numbers (all #1's, all #2's, etc.) as well as Double Digit Play Numbers (#11, #23, #54, etc.).
• Lead-Time: 2 weeks.
Orders can be placed by visiting any authorized Titleist golf ball retailer. To locate golf shop in your area, please click here: http://www.titleist.com/locator.aspx.