It's time again for another edition of our Team Titleist member spotlight series, and this month we're featuring Ted Davies, from Spring, Texas. You may know Ted by his Team Titleist handle, PULPLVR, and he is a devoted contributor to our forum discussions and a true student of the game.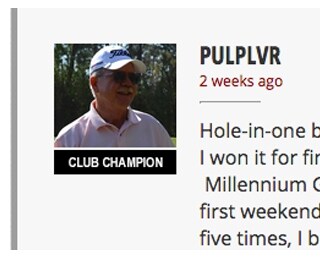 Always quick to share the knowledge he's acquired in a lifetime of playing golf, Ted is a valuable resource to our community and we're happy to shine the spotlight on him, so let's get to know Ted a little better...
How did you get started in golf and who introduced you to the game?
When I was 11, living in Oklahoma City, there was a lighted golf course not too far from our house. I played baseball and tennis, but was looking for something I could do that did not require other participants. I had been to driving ranges before, but had not played. One evening I rode my bicycle to the course and played until quite late. My parents were wondering where I was. I was hooked. After we moved to Casper, WY that summer, I started in earnest, riding my bicycle or walking to the municipal course frequently during the summers and playing as much as I could.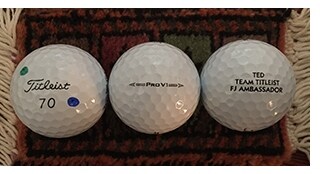 What model Titleist golf ball do you play and how do you mark it?
Pro V1. It's the best all-around ball for me and my game that I've found. I don't spin the ball a lot and the Pro V1 gives me that little bit more I need around the greens.
I decided last year to buy custom number 70, for my age (and for my target score). I personalized the balls with my initials, Team Titleist, and FJ Ambassador. I mark these as I do all my Pro V1's with a green dot above the capital "T" and a blue dot below the final "t" of Titleist.
What's your favorite Titleist club in the bag?
I'd love to say my Scotty, but that's not true. The club I've come to rely on most frequently is my 24 degree 910h. It gives me good distance (170-180) and I can hit it from a wide variety of lies.
How often are you thinking about your golf game and getting better? What are you currently working on?
I think about my game frequently. Like most Team Titleist members, I read various golf magazines, both hard copy and on line, and check out lots of playing tips from various sources. I've gone to a couple of three day golf schools and have been working off and on with a swing coach at my local course. The principal area we concentrate on is the short game, the scoring part of every round. Chipping, pitching, and, especially, putting.
What's your best score and where did you shoot it?
My best score is 71, one under. I managed that once several years ago in northern Virginia, playing late one day with my wife on the municipal course in Herndon, VA. I managed it again a couple of years ago here in Texas, on one of the two courses I call home, WindRose GC. I'd love to better my age soon, so I can claim at least a slight improvement.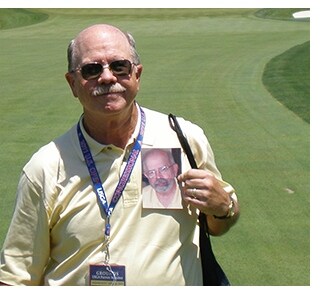 What's the most special moment you've ever had on the golf course?
My older brother and I played together when we could while we both resided in the Washington, D.C. metropolitan area in the '90s and 2000's. We had attended the U.S. Senior Open at Caves Valley in 2002, the AT&T Invitational at Congressional in 2008, and were planning to attend the 2011 U.S. Open at Congressional together. I had requested and received tickets from the USGA in 2010 and we were all set. In 2010, however, he was diagnosed with cancer and did not survive to the Open. I attended the tournament, carrying a photo of him with me in his memory.
What's the best piece of golf advice you have ever received?
Don't try to recover from a poor shot with a heroic one. You'll just get yourself into further difficulty. Take your medicine and give yourself a chance for a one putt par or no worse than bogey.
Have any on-course superstitions?
I carry two tees (one long, one short), a ball mark repair tool, and a ball marker in my right pocket. The ball marker may be a Titleist or FootJoy marker, one of several poker chip type markers I have, or a larger foreign coin.
Thank you, Ted!
#TeamTitleist