In the latest installation of our Team Titleist member spotlight series, we reached out to accomplished competitive player and proud Team Titleist member, Steve Holm (Steve H on the boards). Steve is an influential figure in the golf community in his native Utah and, as you'll learn from his interview below, clear thinking and a methodical approach to improvement can result in great success.
Get to know Steve a little better...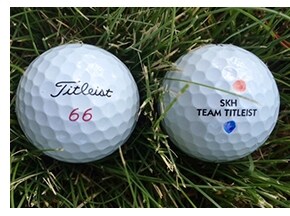 How did you get started in golf and who introduced you to the game?
Like most, I was introduced to golf by my parents. I left the game for several years as I raised a family and furthered my employment opportunities. I started playing once again at the urging of my younger brother. Shortly after, I started competing in local tournaments as I became fascinated with the preparation, pressure and stress.
How often are you thinking about your golf game and what are you currently working on?
It's constantly on my mind. I'm a bit old school as I document every stroke. I built a spreadsheet that shows where the deficiencies are in my game, and then I watch videos, live golf, have a lesson, etc., to seek further understanding and work towards refining those shortcomings. Currently, I'm focused on scrambling and the short game. Improvement is slow, but very rewarding.
What model Titleist golf ball do you play and how do you mark it?
I play the Titleist Pro V1x for its feel, durability, roll, spin and scoring performance.
I have my Pro V1x's custom imprinted with "66" to commemorate my lowest score, a 66 that I shot at the Glen Eagle Senior Club Championship. I also have "SKH Team Titleist" printed on the side to show my loyalty to Team Titleist.
What's your favorite Titleist club in the bag?
My 714 AP2 7 iron. If there is one thing I can rely on when I get totally buried and in trouble, it's my 7-iron. It has saved me from even the most disastrous of situations. It's my "go-to" club.
What's the most special moment you've ever had on the golf course?
The first year I competed at the Utah Senior State Amateur Championship, I came from behind to win and it was very emotional. The buildup and the pressure just releases once you drain the final putt, and you realize that you have won. I bawled my eyes out because it was so special. That's why they make sunglasses.
Have any on-course superstitions?
I do…I have to have short tees in the left pocket, long tees in the right, a 1966 quarter to mark my ball, and a black Pitchfix divot tool. I also have to have my Titleist yardage book holder in my left back pocket with all my information from the course I'm about to play. I can't play unless these items are in place before I begin.
Favorite golf destination?
Pinehurst No. 2.
Favorite 19th hole meal?
Burger and Fries… courtesy of my playing competitors.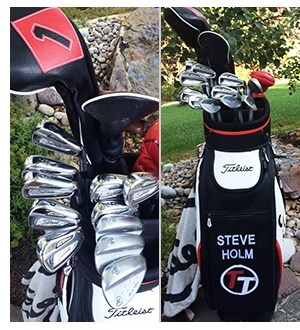 WHAT'S IN STEVE HOLM'S BAG

Golf Ball: Titleist Pro V1x golf ball, "66", "SKH Team Titleist" custom-imprinted on the side.

Driver: Titleist 915D2 driver (10.5º) w/Aldilia RIP 60/3.8 stiff/Phenom shaft, D•3 SureFit hosel setting, Golf Pride "Super Tack" 60 round grip.

Hybrid: Titleist 915Hd fairway metal (18º) w/Aldilia RIP 70/stiff/3.2 Torque shaft, A•1 SureFit hosel setting, Golf Pride "Super Tack" 60 round grip.

Irons: Titleist AP2 irons(4-W) w/Project X PXi 5.5 Flighted shafts, Golf Pride "Super Tack" 60 round grip.

Wedges: Titleist Wedgeworks TVD-K, Project X Steel 6.0 shaft: 54°, "Snow Package" white dots, BV Custom Toe Stamp, w/ "Gunnar" freestyle stamping.
Titleist Wedgeworks TVD-K, Project X Steel 6.0 shaft: 56°, "Snow Package" black dots, BV Custom Toe Stamp, w/ "Jennifer" Freestyle Stamping.
Titleist Wedgeworks TVD-K, Project X Steel 6.0 shaft: 60° (bent 1°up) ,"Snow Package" red dots, BV Custom Toe Stamp, w/ "Melanie" freestyle stamping.
(Melanie is my beautiful wife, Jennifer is our only child, and Gunnar is our only grandchild.)

Putter: Scotty Cameron Squareback/5° loft, 71° lie, 35", 2015 Super Stroke Mid Slim 2.0 grip.

Ball Marker: 1966 Quarter for tournament play, regular quarter all other times.

Glove: Titleist "Players Glove", 1 new in sleeve (tournament play), 1 used for regular rounds, 1 for practice (they always rotate around).

Shoes: FootJoy (SuperLites, Icon Spikeless, Contour Casuals, City Wingtip).

Apparel: FootJoy shorts, pants (various colors) FootJoy shirts (Team Titleist for tournaments) all other rounds in different models and colors.
Thank you, Steve!
#TeamTitleist