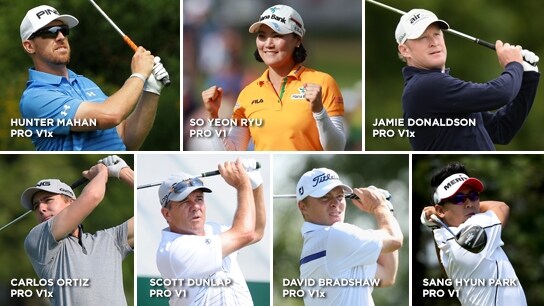 Titleist Pro V1x loyalist Hunter Mahan capped off a week of solid play at Ridgewood Country Club by firing a final round 65 to claim a two shot victory at The Barclays. Hunter carded seven birdies and only one bogey during his final round as he jumped up the leaderboard to top off a four-round total of 14-under-par 270.
The win vaults Mahan to the top of the FedEx Cup Playoffs points list heading into the Deutsche Bank Championship.
Hunter's play this week was highlighted by a number of clutch putts but before reaching for his putter, he relied on controlling his golf ball off the tee and into the greens to set up his scoring opportunities. Helping him along the way to hitting a field-leading 80.6% of his greens in regulation this week has been Hunter's laser-focused approach to his preparation.
"I don't want to waste a shot anywhere, on the range, on the putting green, on a chipping green, on a Monday, Tuesday, Wednesday," said Mahan during his post-round press conference.
"It's not about putting the time in. It's about putting the right time and putting the real focus on to every shot, because I think that's what great players do. They don't waste a second of practice time when they are out on the golf course."
Great advice for all golfers. And for Hunter, the hard work certainly paid off this week.
WEEKEND HIGHLIGHTS FROM THE WORLDWIDE PROFESSIONAL TOURS:
Jamie Donaldson (Pro V1x) closed with a 4-under-par 68 to overcome a two shot deficit and post a 14-under-par victory total to claim the D+D Real Czech Masters. The victory was the third of his career and also helped secure him a position on the European Ryder Cup team.
Titleist Pro V1 golf ball loyalist So Yeon Ryu fired a course record 63 in the first round of the Canadian Pacific Women's Open and she never looked back. Ryu continued her stellar play throughout the week and went on to capture a wire-to-wire victory, finishing the tournament at 23-under-par.
At the WinCo Foods Portland Open on the Web.com tour, Pro V1x loyalist Carlos Ortiz posted opening rounds of 66 and 63, propelling him to a 14-under 270 victory total. With the regular season now over on the Web.com Tour, Titleist golf ball loyalists won 13 events on the 2014 Web.com Tour, more than four times the nearest competitor with 3.
Pro V1 golf ball loyalist Scott Dunlap won the Boeing Classic on the Champions Tour after sinking a birdie putt on the first hole of a sudden death playoff. Dunlap set up his winning putt on the par-5 18th hole with an outstanding approach to the right of the pin that bounced past the hole, and then drew back downhill to within four feet. He made an easy two-putt for his first Champions Tour victory.
David Bradshaw (Pro V1x) birdied the final hole at The Great Waterway Classic to claim his first career win on PGA TOUR Canada. Bradshaw fired a final round 5-under 67 to post a 21-under victory total. The victory helped move Bradshaw to ninth place on the Canadian Tour Order of Merit with three events to go in the 2014 season.
On the KPGA Tour, Titleist Brand Ambassador Sang Hyun Park closed with a 4-under-par 67 to win the Vainer Championship by one shot over Titleist Pro V1x loyalist Maeng Dong Seop. Park fired a four round total of 15-under-par 269.
TEAM TITLEIST BY THE NUMBERS
With another seven wins this week, Titleist's year-to-date victory count advances to 117. That's more than four times the nearest competitor with 27 and more than all competitors combined.
In total, 16,678 players have teed up Titleist golf balls in competition on the 2014 worldwide professional tours, more than six times the nearest competitor with 2,682 and more than all competitors combined.

THE TITLEIST LEADERBOARD | WEEK ENDING August 24, 2014
Tour
Event
Titleist Golf Ball Players
Nearest Competitor
PGA Tour
The Barclays
70
15
European Tour
D+D Real Czech Masters
112
21
LPGA Tour
Canadian Pacific Women's Open
113
15
Web.com Tour
WinCo Foods Portland Open
106
18
Champions Tour
Boeing Classic
57
8
Canadian Tour
The Great Waterway Classic
96
24
Korean PGA Tour
Vainer / Pineridge Championship
70
15