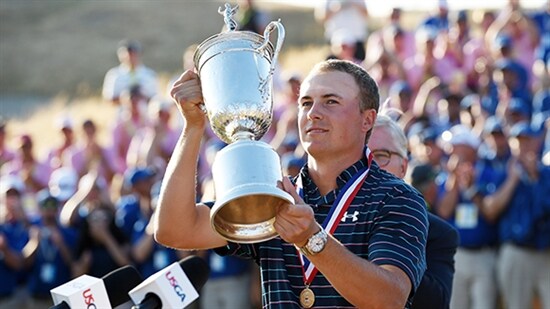 Titleist Brand Ambassador Jordan Spieth, just two months after winning his first major championship in historic fashion at the Masters, made it two-in-a-row with a momentous one-shot victory at the 115th U.S. Open Championship.
Spieth closed with a one-under-par 69 (5-under 275 total) to top two players, including fellow Pro V1x golf ball loyalist Louis Oosthuizen, who birdied six of his final seven holes for a record-tying, final-nine 29.
Oosthuizen finished with a 3-under par 67.
Adam Scott (Pro V1x, 915D5 (9.5°) driver, 915F (15°) fairway metal, AP2 714 2-iron, 680 (3-9) irons, Vokey Design SM5 pitching (48°) and sand (54°) wedges and TVD K grind lob (60°) wedge, Scotty Cameron Futura X protoype putter) posted the low final round of the day with a six-birdie, six-under par 64, and vaulted into a share of fourth place with two other players, including fellow Titleist Brand Ambassador Cameron Smith (Pro V1x, 915D3 (10.5°) driver, 915F (15°) fairway metal, 915Hd (20.5°) hybrid, AP2 714 (4-PW) irons, Vokey Design SM5 gap (52°), sand (56°) and lob (60°) wedges, Scotty Cameron GoLo 5 putter) at three-under par 277.
Smith closed his final round with a birdie on No. 16 and an eagle on No. 18 to post a two-under par 68.
Four of the top six finishers relied upon Titleist golf balls for their success.
JUST THE STATS: Spieth tied for the lead in Birdies for the week with 18, and tied for fifth with fellow Titleist Brand Ambassador Adam Scott in Greens in Regulation (76%), connecting on 55 of 72 for the week.
MILESTONES:
• Jordan Spieth became the first player since Gene Sarazen in 1922 to win multiple majors before his 22nd birthday.
• He became the youngest winner of the U.S. Open since Bob Jones in 1923.
• He is the sixth player to win the first two legs of the Grand Slam, and the first since 2002.
WHAT'S IN JORDAN SPIETH'S BAG?: Check out Jordan's U.S. Open-winning setup here:
http://www.titleist.com/teamtitleist/b/tourblog/archive/2015/06/22/the-winning-setup-jordan-spieth-at-the-2015-u-s-open.aspx
••••
TITLEIST BY THE NUMBERS
In total, 11,181 players have teed up Titleist golf balls in competition on the 2015 worldwide professional tours, more than six times the nearest competitor with 1,861 and more than all competitors combined.
With seven more wins this week, Titleist's 2015 victory count advances to 75. That's nearly four times the nearest competitor with 20 and more than all competitors combined.
| Tour | Event | Titleist Golf Ball Players | Nearest Competitor |
| --- | --- | --- | --- |
| PGA TOUR | United States Open Championship | 91 | 19 |
| ASIAN TOUR | Queen's Cup | 97 | 26 |
| KOREAN TOUR | Vainer Open | 124 | 14 |
#TeamTitleist