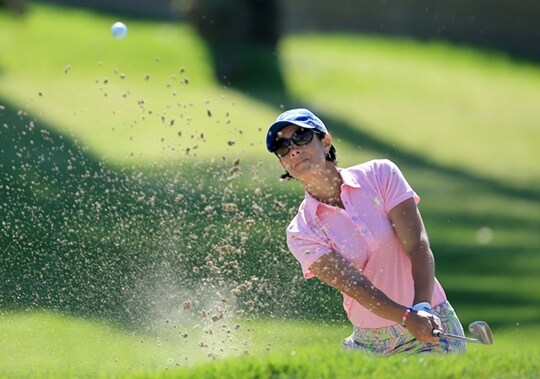 Making a hole-in-one is a shining moment in any golfer's career. It's a rare feat that many, if not most of us are unable to achieve in lifetimes of playing. Making a hole-in-one in competition is rarer still. But how about making two holes-in-one, on consecutive days, at the same professional tournament? The odds are astronomical.

And yet it happened just last week, when Titleist Pro V1x loyalist Laura Diaz validated a Saturday ace with a second hole-in-one on Sunday at the LPGA Tour's Kia Classic in Carlsbad, CA. In doing so the two-time LPGA Tour winner became only the second player in LPGA Tour history with two holes-in-one in the same event.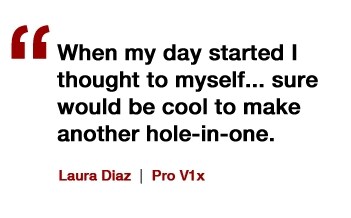 Team Titleist was lucky to catch up with Laura shortly after her historic weekend and she told us how she captured lightning in a bottle - twice. Her first ace on Saturday came at the 3rd hole at Park Hyatt Aviara Golf Club, a short par-3 guarded by water.

"We had 94 yards to the pin, 89 to the front to cover the water," Laura told us. "I hit my Vokey 50-degree planning to hit a 100 yard shot. The shot came off a little right of my target, but it landed about 10 yards past the pin and sucked back perfectly, right into the hole."

Laura has had seven holes-in-one in her career and three in LPGA Tour events, so we asked if her reaction was more blasé than ours might be.

"Oh, no. My caddy was shocked but I was sooo excited and my playing partner Amelia Lewis (who also trusts a Pro V1x golf ball) and her brother Chris were just as excited. We hugged and high-fived."

Perhaps just to show that the ace was no fluke, two holes later, at the uphill par-5 5th hole, Laura holed out another shot with her 50-degree Vokey, this time from the fairway for an eagle.

"With other clubs it depends where the pins are, but I usually aim at the pins with my wedges," Laura explained.

We were curious about Laura's approach once Sunday rolled around. Can that kind of success fuel a player's confidence?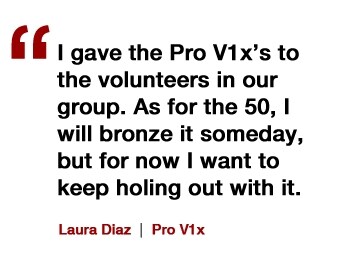 "Definitely," Laura said. "When my day started I thought to myself.. sure would be cool to make another hole-in-one one today."

She would only have to wait until the next par-3 opportunity at Aviara's 6th hole.

"The 6th usually plays a club longer. We had 162 yards and I was trying to hit a high cut with my 6-iron. The shot came off great. The hole plays uphill, so I didn't see it hit the surface. We could see the spectators react up at the green, though, and my group went crazy."

Not one to rest on her laurels, Laura stayed aggressive on the very next hole, a downhill par-4.

"I was just trying to go through my routine on 7. I was in between my wedge and my 50. The wind picked up and I decided to hit the 50-degree again."

Good decision. The shot spun in for another eagle.

"I holed out a total of 3 times with my 50-degree Vokey when I finished my round on Sunday. I love my wedges but 50 may have one up on my other Vokeys now."

So how does a world-class player commemorate a momentous performance like this? She looks ahead to the next opportunity.

"How did I celebrate," Laura asked. "I drove to Palm Springs to play in The Kraft after having Chipotle for dinner."

But she couriered her Pro V1x's and Vokey 50-degree wedge out for appropriate mounting and bronzing, right?

"No," Laura told us. "I gave the Pro V1x's to the volunteers in our group. As for the 50, I will bronze it someday, but for now I want to keep holing out with it."

Finally, we asked Laura her secret and what we can do to chase down our own holes-in-one. Her answer?

"Go buy some Pro V1x golf balls and a Vokey 50.. And GO FOR IT!"

Congratulations, Laura, from all of us here at Team Titleist. Thanks for your time and we wish you the best of luck at this week's Kraft Nabisco Championship, the first major on the LPGA Tour calendar.

#TeamTitleist