How good is the new family of 915F and 915Fd fairway metals? Just ask Titleist Brand Ambassador Scott Stallings…
"The 3-wood for a PGA Tour player or any player in general is the hardest club in the world to fit and I got into it in about five swings," said Stallings of his experience being fit for a new 915Fd (15º with SureFit Tour setting of D•1).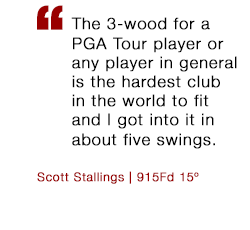 This is just one example from the more than 100 players who have already put the new 915 metals in play across the worldwide professional tours. And the new 915F and 915Fd are the fastest fairway designs Titleist has ever developed, significantly increasing distance for serious golfers of all swing speeds from the tee and turf while maintaining high MOI for forgiveness.
The 915 fairways provide improved performance through three key advancements:
• Active Recoil Channel - The proprietary long, deep, forward-positioned sole channel that actively flexes at impact and recoils to launch the ball off the face with higher speed and lower spin
• Ultra Thin Face - a high-strength, uniformly thin high-speed face insert that increases ball speed across the face
• High-MOI Design - coupled with a low center of gravity (CG) location to deliver stability and forgiveness by preserving ball speed across the face for more distance, more often
Those technologies, combined with the fitting precision of Titleist's industry-leading SureFit Tour hosel and tour-validated looks, sound and feel, make for the most complete, consistent metals performance in the game.
Still need more convincing? How about this story from Titleist Brand Ambassador Kevin Na…
"I had a friend ask, 'Are you playing the new Titleist fairways?' And I said, '915? Yeah, I put it in play the first day!' And he said, 'You've been playing that other 3-wood for seven years, it must be good.' You know it!"
Be sure to check out the video above to see what some of the other Titleist Brand Ambassadors are saying about the 915 fairways.