We've reached the Top-5 in our countdown and because we're always looking to improve our scores, we're shining the spotlight on a couple favorite tips from our exclusive 18 Shots series. In the #5 spot, we bring you some great advice from Titleist Staff Professionals Michael Breed and Martin Hall.
Check out the original posts below.
---
18 Shots Presented by Titleist: Michael Breed on Hitting from Uneven Lies
Not every lie on the golf course is perfectly flat and golfers need to know how to adjust to all kinds of situations to help encourage a confident swing.
As Titleist Staff Professional Michael Breed tells us in this latest edition of 18 Shots Presented by Titleist, it's important to adjust your alignment, stance and grip to compensate for an uneven lie.
In this tip, Michael focuses on how to approach a shot when faced with a lie above your feet. A few of his keys... grip down and aim right of the target to ensure solid contact and better control.
Bring this shot to the course and click on the image below for even more great tips and advice for your game.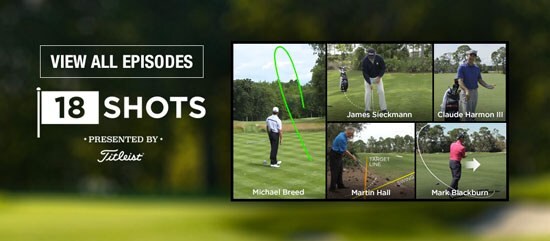 #TeamTitleist
---
18 Shots Presented by Titleist: Ball Above Feet with Martin Hall
You've probably heard in the past that if the golf ball is lying well above your feet, you can expect to see your ensuing shot draw or hook toward your target. However, did you know that the loft of the club plays an extremely important role in the resulting direction of your shot?

As Titleist Staff Professional and Director of Instruction at Ibis Golf and Country Club Martin Hall explains, higher lofted clubs will usually have a more dramatic effect on ball flight and direction than lower lofted clubs.

In our latest episode of 18 Shots Presented by Titleist, Martin demonstrates how to adjust your setup and alignment to stay on target when facing this challenging shot.

#TeamTitleist