Warm weather, high winds and fantastic layouts greet the best players in the world as they head east for the Florida swing. The first stop is this week's Honda Classic, contested on the difficult Champions Course at PGA National Resort. Known for penal rough, demanding Par-4's and one of the toughest closing stretches in all of golf, PGA National offers players and fans alike excitement from the first shot to the last putt.
The Honda Classic also features one of the strongest fields in golf, due in large part to the fact it is a "home game" for many of the world's best players.
"Playing in front of a home crowd is special. You don't get to do that very often, especially here at PGA National. Family is here, a bunch of friends, things like that. It's special for me," said Palm Beach native and Titleist Brand Ambassador Brooks Koepka.
Titleist Pro V1x Loyalist and local resident Rickie Fowler echo's Brooks sentiments.
"Obviously this is kind of my second home. I've been a resident down here in South Florida in Jupiter for five years now, so it's nice to be sleeping in my own bed, being at home, some home cooking," said Fowler.
Despite the local knowledge, familiar surroundings and opportunity to sleep in one's own bed, players still understand it will be a difficult week, and quality ball striking will be the key to success for the eventual champion.
"It plays very tough, you have to drive the ball well, when you add the wind it only become more difficult to find fairways. Approaches are also very difficult, you have to be on from green-to-tee," said Fowler.
We look forward to another fantastic weekend of tournament action. Good luck to all of #TeamTitleist!
BY THE NUMBERS: 2015 HONDA CLASSIC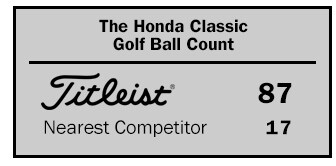 This week at the Honda Classic, Titleist is the overwhelming golf ball of choice with 87 players in the field trusting a Pro V1 or Pro V1x golf ball for their success. That's more than x times the nearest competitor with 17.
Titleist Vokey Wedges were also the top choice in the approach, sand and lob wedge (124) category.