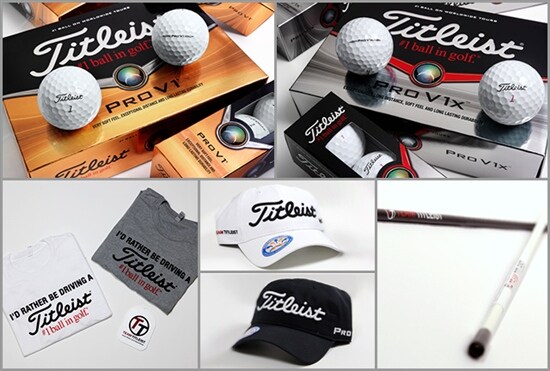 **UPDATE** Thank you to everyone who entered the sweeps. We've turned off the comments for this post as the entry period has passed (see dates below in Here's How To Enter). We will be contacting the randomly selected winners shortly. Thanks again!
---
There are only 14 days left in 2014… but there's still plenty of time for us to have a little more Team Titleist fun before we ring in the New Year.
In our exclusive end of the year sweepstakes, we've assembled another impressive Team Titleist prize pack that is overflowing with great gear including:
>> One (1) Dozen Pro V1 or Pro V1x Golf Balls
>> One (1) Team Titleist Performance Fabric Hat
>> One (1) Limited Edition "I'd Rather Be Driving a Titleist" T-Shirt
>> One (1) Set of Team Titleist Alignment Rods
>> One (1) Team Titleist Bag Tag
>> As a special bonus will also include one (1) visor or one (1) practice green pin flag autographed by a Titleist Brand Ambassador or Golf Ball Loyalist
And to celebrate 2014, we're going to randomly select 14 winners.
HERE'S HOW TO ENTER: To enter the contest, add a comment to this blog post (see below and remember, you must be logged in to leave a comment) with your golf ball model of choice (Pro V1 or Pro V1x) by Sunday, December 28, 2014 at 11:59 pm EDT. Yes, it's that easy.
SAMPLE ENTRY: Pro V1
MORE IMPORTANT DETAILS:
>> We'll randomly select fourteen (14) winners from all approved entries that are submitted by Sunday, December 28, 2014 at 11:59 pm EDT.
>> All approved and completed entries will be eligible for the random drawing. Incomplete entries will not be eligible.
>> Only one entry per person. If you send in multiple replies, you'll be disqualified from the contest. Don't forget to include all of the details outlined above or your entry will not be considered eligible.
>> Keep in mind, all comments are moderated and it may take some time for your comment to appear. We'll do our best to approve comments quickly but if you enter more than one reply, we have to disqualify you from the drawing (sorry to repeat this but we want to make sure it's clear).
U.S. only. Here's some more info: Why are Titleist sweepstakes U.S. only?
No purchase necessary. View complete rules here: http://www.titleist.com/company/Community-Policy.aspx#sweepstakes