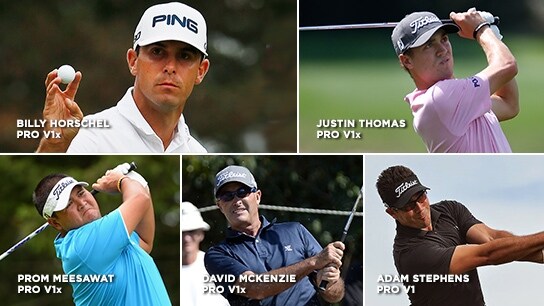 Titleist Pro V1x loyalist Billy Horschel claimed golf's largest prize following a three-shot win at the season-ending TOUR Championship, leaving no doubt as to who is currently the hottest golfer in the game.
With his second playoff win in as many weeks, Horschel claimed the FedExCup trophy and the $10 million bonus that goes to the winner of the PGA Tour's season-long race.
It was an historic stretch of golf for Horschel, who closed the playoffs shooting 12 straight rounds in the 60's. At 27, he becomes the youngest player ever to the win the FedExCup.
"I'm on cloud nine," Horschel said following the victory. "It's unbelievable. I kept believing, everyone on my team kept believing in me and just kept my head up high. I'm a positive guy, I always see things glass half full, and it turned out for the best, and I can't be more thrilled. To cap it off like this has been pretty unbelievable."
Horschel shot 2-under 68 in the final round, displaying commanding control over his golf ball tee-to-green and a deft touch on East Lake's putting surfaces. Also evident was a renewed confidence and focused mental approach that paid huge dividends when he needed it the most.
"I knew my game was in the right shape," Horschel said. "I just needed to get out of my own way, needed to allow my golf game to show, and did it show the last three weeks.
"The Playoffs are the biggest, besides the majors, are the four biggest events we have on the PGA Tour and that's when the light shines the brightest. And it just gives me so much confidence, so much thrill to accomplish something like this, especially with the guys I was going up against."
Including Billy Horschel, 19 players in the elite 29-man field at the TOUR Championship relied on a Titleist Pro V1 or Pro V1x golf ball for their success in the FedExCup playoffs, nearly five times the nearest competitor with 4 and more than all competitors combined.
Titleist golf ball loyalists won 26 PGA Tour events this season (compared to 7 for the nearest competitor), including all four FedExCup Playoff events.
WEEKEND HIGHLIGHTS FROM THE WORLDWIDE PROFESSIONAL TOURS
Titleist Brand Ambassador Justin Thomas earned his first-career Web.com Tour title on Sunday, capturing the Nationwide Children's Hospital Championship with a birdie on the first hole of a sudden-death playoff. Thomas, who relied on a Pro V1x golf ball and a full complement of Titleist golf clubs – including a new prototype Titleist 915D3 driver and prototype 915Fd fairway metal – hit a Vokey Design SM5 lob wedge from 79 yards to 2 feet, setting up a birdie on the par-4 18th that sent the action to extra holes.
On the Australasian Tour, Titleist Brand Ambassador Adam Stephens trusted his Pro V1 golf ball and a full complement of Titleist clubs to record a five-stroke victory in the South Pacific Open Championship. Stephens, who finished with a 15-under par 269 victory total, vaulted to the lead following a second round 7-under-par 64 and never relinquished the top position.
In Taipei, Pro V1x loyalist Prom Meesawat rallied to capture the Yeangder Tournament Players Championship with a par on the second hole of a sudden-death playoff. Nicknamed "The Big Dolphin," Meeswat birdied the last hole of regulation for a final round 3-under-par 69 en route to his second career Asian Tour crown.
And to round out the week's success, in China, Titleist Pro V1x golf ball loyalist David McKenzie closed with a 3-under par 69, posting a 16-under 272 total that was good for a 2-stroke margin of victory at the Cadillac Championship in Beijing. The win marks the second title of McKenzie's PGA Tour China Series career.
TEAM TITLEIST BY THE NUMBERS
With another four wins this week, Titleist's year-to-date victory count advances to 132. That's more than four times the nearest competitor with 30 and more than all competitors combined.
In total, 18,559 players have teed up Titleist golf balls in competition on the 2014 worldwide professional tours, nearly six times the nearest competitor with 3,101 and more than all competitors combined.

THE TITLEIST LEADERBOARD | WEEK ENDING September 14, 2014
| Tour | Event | Titleist Golf Ball Players | Nearest Competitor |
| --- | --- | --- | --- |
| PGA Tour | The TOUR Championship | 19 | 4 |
| European Tour | KLM Open | 105 | 20 |
| LPGA Tour | Evian Masters | 86 | 8 |
| Web.com Tour | Nationwide Children's Hospital Invitational | 83 | 14 |
| PGA Tour Canada | Tour Championship of Canada | 35 | 9 |
| Asian Tour | Yeangder TPC | 94 | 25 |
| PGA Tour China | Cadillac Championship | 81 | 26 |
| Australasian Tour | South Pacific Ocean Championship | 88 | 10 |