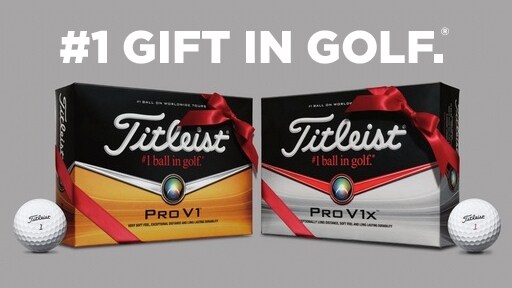 The Holiday Season is in full swing and if you're looking to climb to the top of the gift giving leaderboard this year, Team Titleist is here to help.
Sinking a 15-footer for birdie or scrambling for par can be hard, but giving (or getting) the perfect gift doesn't have to be. So skip the giftcard, fruit basket or ties and give your favorite golfer (or golfers) the gift that top's every wish list - Pro V1 or Pro V1x golf balls.
It's the gift that keeps spirits high and scores low. And when you purchase a dozen Pro V1 or Pro V1x golf balls, ask about a special offer from Titleist.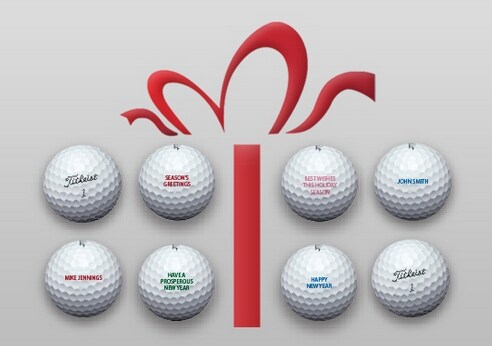 Also, just in case you missed it, from now until Dec. 31, 2013, personalization charges will be waived on all orders of Titleist Pro V1, Pro V1x, NXT Tour, NXT Tour S, Velocity and DT SoLo golf balls. Free personalization is also available on custom orders of Pro V1 and Pro V1x with double-digit play numbers (00 and 10-99).
Personalization includes up to three lines of block text (17 characters per line) imprinted on each golf ball in black, blue, green, red or pink ink. Popular choices include names, nicknames, initials, holiday greetings, congratulations and inspirational messages. Twitter usernames (i.e., @Titleist) and hashtags (i.e., #TeamTitleist) are also growing in popularity.
Individual numbers are also available on NXT Tour and NXT Tour S (1-4); Velocity (1-4 or 00, 11, 22, 33); and DT SoLo (1-4) models.
The #1 ball in golf is also the #1 gift in golf, particularly when it comes with a personal touch.
The minimum order for free personalization is just one dozen. Stop by your local authorized Titleist golf shop to place an order and visit our golf shop locator to find the shop closest to you: http://www.titleist.com/find-a-golf-shop.
In the meantime, check out the promotion details below.
2013 Titleist Custom Holiday Promotion Details (U.S. customers only)*
Offer: Free personalization (single pole personalization only).
Products: All Titleist golf ball models.
Imprint: Black, Blue, Red, Green or Pink ink.
1 color per personalization.
Maximum 17 characters per line, up to 3 lines of personalization.
Minimum: 1 dozen (packaged in standard dozens).
Dates: An order must be placed between Nov. 1-Dec. 31, 2013.
Orders received by Dec. 10, 2013 are guaranteed to arrive by Dec. 24, 2013 via normal ground freight. Orders requesting Fast Forward Service must be received by Dec. 18, 2013.
December 3, 2013 is the last day that orders will be accepted for Double Digit Play Numbers, with guaranteed delivery prior to December 24, 2013.
Orders for custom individual and double-digit play numbers may incur an additional charge.
Individual play numbers: Pro V1 and Pro V1x (1-9); NXT Tour and NXT Tour S (1-4); Velocity (1-4 or 00, 11, 22, 33); DT SoLo (1-4).
Double-digit play numbers (Pro V1 and Pro V1x only): 00 and 11-99.
*Note: U.S. only. Free personalization promotions are also available in Canada and Europe. Please refer to the Titleist website in each respective market for complete details.