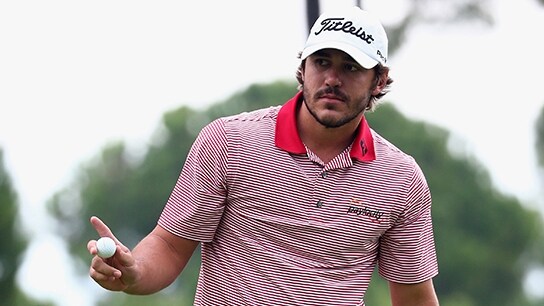 Hard work, determination, grit and a really solid game from tee to green is what it takes to win on tour. And it's not easy to put all of these elements together in any given week (even for the best golfers in the world) so when everything lines up, it's important to have the right perspective.
Just ask Titleist Brand Ambassador Brooks Koepka.
"To look where I was a year and a half ago on The Challenge Tour and now to be a winner on The European Tour is incredible, especially winning four times there and winning out here, it's very special."
Having spent the past year playing across the globe on both the European Tour and the PGA Tour, Brooks has already established a solid resume in his professional career and his this past weekend is all a part of the learning process.
"I feel like I've been playing really well… I've been knocking on the door and I've learned something every time, and used that today."
Learning to win on tour is a skill in of itself and one this is anything but easy.
"I've always said, it doesn't matter where you win. Winning's winning. It's hard to do, especially in golf. I don't think anybody would tell you it's easy," added Koepka.
With the win, Brooks also moves into 6th place on the Race to Dubai rankings and jumps into 35th place in the Official World Golf Rankings.
That's our idea of a pretty great weekend on the golf course. Congratulations, Brooks!
So let's take a closer look at the Titleist equipment Brooks trusted to his first career European Tour title: