In the latest edition of the popular Team Titleist member spotlight series we catch up with longtime Team Titleist member Vern U. Among other things, we learned Vern picked up the game from his parents, always marks his Pro V1 with a distinctive "V" and his all-time favorite gift would be an endless supply of Pro V1 golf balls.
Check out the Q&A below to learn more about Vern...
Team Titleist (TT): How did you get started in golf? Who introduced you to the game?
Vern U. (VU): I got started in golf like most kids. My parents Joan and Vern Sr. introduced me to the game at a young age and taught me the basic fundamentals. I've never really taken any formal lessons, I take bits and pieces of advice from a friend or do some research on You Tube and formulate my own swing and game plan. I like figuring things out for myself, it's more satisfying and gratifying.
I grew up in Grand Blanc, Michigan with my two younger brothers, Dave and Joe and two older sisters, Sue and Ann. We lived on the first hole of the famed Warwick Hills Golf and C.C. The Buick Open was played as far back as I can remember and I loved to go out and watch the pros every summer with my friends.
I played junior golf every summer and just loved it, I knew my heart and passion was always golf.
Our house burned down when I was 11. My family lost everything, including my middle brother, Joey. We all lived with friends and relatives for a while until we rebuilt across the course on the 15th hole. When I was in my early teens, I shot a 75 in a multi-state, regional tournament, losing by one stroke to my neighbor, of all people. I had dreams like all kids of being a professional golfer, but that dream died when I was in a severe accident at 19. It was 25 years before I picked up a golf club again.
TT: How do you mark your Titleist?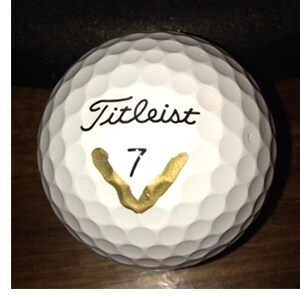 VU: I mark my ball with a metallic, oil based Sharpie pen because it stays on the ball longer. I love gold and silver, but also use purple or red. I write "V" for Vern under the number and my favorite number is "7," for my birthday, or "1," for first place.
As far back as I can remember, the Titleist golf ball possessed magic and power when I held it, looked at it and stood over it. The feel of a Titleist ball elicits an emotion that is hard to describe. I loved the black on black, 100 compression when I was a kid and today it's the Pro V1. If there is ever a gift I would love to receive, it's boxes and cases and truck loads of Pro V1's. When I find a Pro V1 ball, it's like Christmas morning! Pro V1's are a gift that keeps on giving!
TT: What's your favorite Titleist club in the bag?
VU: My favorite club in the bag used to be my 19 degree hybrid. It was my go-to club, but now, to my great relief and satisfaction, it's my driver. There is nothing like booming a big drive down the middle of the fairway with a nice, baby draw on it. I can wait to get fitted for the 915 set of metals. I've been sidelined because of injuries most of the year, but I'm back in action. I saw my Team Titleist friends hitting the 915 at the Team Titleist event in San Diego and I was drooling over the look, sound and feel of the 915's.
TT: How often are you thinking about your golf game and getting better? What are you currently working on?
VU: The question shouldn't be, "How often I think about golf," but rather, "How often DON'T I think about golf?", and that answer is hardly ever. When I'm not playing and practicing, I watch the golf channel in the morning and the first thing when I get back at night. I am consumed by my passion for the game. It never gets old and it never gets boring. I can't wait to get on the course, I hate to leave. I love to chip and putt in the dark with my golf cart lights illuminating my practice area. I practice until the sprinklers slap me in the face!
TT: Can you recall the best golf shot you ever hit?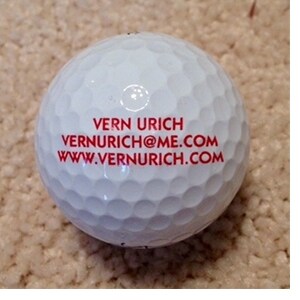 VU: The best shot I ever hit was this year on the first tee at Maderas Golf Course in San Diego for the Team Titleist Invitational event. I am usually very nervous, as most people, on the first tee, especially since I hadn't played for over 10 months this year. I had only a few weeks playing time before this great event, but it was "Go," time. Being a professional actor helps dealing with crowds, but this was golf, not Shakespeare. Golf is much more difficult than memorizing four hours of Hamlet! Almost everyone from the TT staff and TT members were watching and I was fortunate to hit a beautiful shot down the middle. When I heard my friends and mates from TT call out my name and congratulate me, it was a great feeling! What's a great shot if you can't share it with your friends?
TT: What's the best piece of golf advice you ever received?
VU: The best piece of golf advice is one I give to others. Enjoy the game, enjoy the time and enjoy your friends. I've had things taken away forever in my life, but I am so grateful I can still play the greatest game ever invented. Golf humbles you, keeps you honest, and whether you like it or not, helps you learn about yourself. What more can you want or ask for? It's a great journey...