The Web.com Tour season draws to a close this week, as players make their final charges in hopes of playing on the PGA Tour for the 2015-16 season.
With three Web.com finals events are already in the books, only the Web.com Tour Championship remains and a field of 129 players has assembled at TPC Sawgrass to face one last test on the par-72, 7,215-yard Dye's Valley Course.
On the line, the final PGA TOUR cards for the 2015 – 2016 season.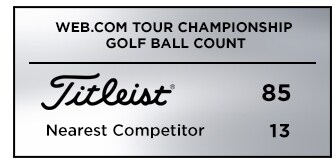 And once again, Titleist is the overwhelming golf ball choice at the event with 85 players trusting a Pro V1 or Pro V1x golf ball for their success. That's more than six times the nearest competitor with 13 and more than all competitors combined.
Titleist was also the top choice in the iron (30) category and Vokey Design Wedges topped the approach, sand and lob wedge (144) category.
Hop inside the ropes with Team Titleist and check out some of our favorite photos from around Dye's Valley Course in the gallery above.
Good luck to all of #TeamTitleist this weekend!