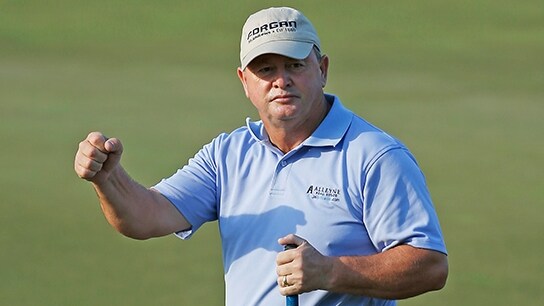 It was an all-Titleist, three-way sudden death playoff on the Champions Tour this weekend, where Pro V1x loyalist Ian Woosnam, playing on a sponsor's exemption, made a 30-foot birdie putt on the first extra hole to win the Insperity Invitational.
The 57-year-old Welshman closed with a 4-under 68 at The Woodlands Country Club to post a 11-under 205 total.
"Great feeling," Woosnam said after the victory. "I played some great golf and I was fortunate to hole that long putt. I've got something to prove, really, and I did it."
The win marks the first Champions Tour title for the 1991 Masters champion and earns him a one-year Champions Tour exemption as well as entry into the season-opening Mitsubishi Electric Championship at Hualalai the next two years.
"I've been wanting to play," Woosnam said. "I was exempt for a couple of years, but I wanted to be with my family and everything, but now kids are growing up more and I can spend a bit more time over here. It's a great tour and it's a pleasure to be here and I'm thankful for the sponsors to give me the invites and, hopefully, I've paid them off."
Pro V1 loyalist Tom Lehman, who fired a final round 6-under 66, was among the other two playoff participants.
Congratulations, Ian!
WEEKEND HIGHLIGHTS FROM THE WORLDWIDE PROFESSIONAL TOURS:
PGA TOUR: At the WGC Cadillac Match Play Championship, among the elite field of 64 top-ranked players in the world, Titleist was the overwhelming top choice in golf balls and also led the equipment counts across every major category, including drivers, fairway metals, hybrids, irons, wedges and putters.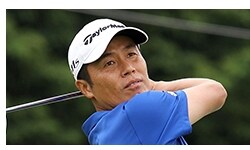 JAPAN TOUR: Titleist Pro V1x golf ball loyalist I. J. Jang of Korea fired a final round 3-under par 67 en route to a 10-under par 270 victory total at the prestigious Chunichi Crowns.
He finished four shots clear of three players for his third career Japan Golf Tour title.
Titleist golf ball loyalists have now won the first two events to start the 2015 Japan Golf Tour season.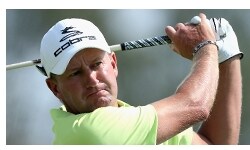 SOUTH AFRICAN TOUR : Titleist Pro V1x golf ball loyalist Vaughn Groenewald posted a four-shot win at the Zambia Sugar Open for his third career South African Tour title.
Groenewald carded a final round 4-under par 68 en route to a 20-under par 272 victory total.
Titleist Brand Ambassador Jean Hugo (Pro V1x, 915D3 driver, 915F fairway metal, 915H hybrid, MB irons, Vokey Design SM5 wedges) finished solo 2nd second, while Titleist Brand Ambassador Justin Harding (Pro V1x, 915D3 driver, 915F fairway metal, CB irons, Vokey Design SM5 wedges) and Titleist Pro V1x loyalists Daniel Greene and Haydn Porteous finished joint 4th, six shots behind the champion.
TITLEIST BY THE NUMBERS:
In total, 6,957 players have teed up Titleist golf balls in competition on the 2015 worldwide professional tours, more than five times the nearest competitor with 1,206 and more than all competitors combined.



With three more wins this week, Titleist's 2015 victory count advances to 45. That's three times the nearest competitor with 14 and more than all competitors combined.
THE TITLEIST LEADERBOARD | WEEK ENDING MAY 3, 2015
| Tour | Event | Titleist Golf Ball Players | Nearest Competitor |
| --- | --- | --- | --- |
| WORLD GOLF CHAMPIONSHIPS | WGC Cadillac Match Play | 36 | 7 |
| LPGA TOUR | North Texas LPGA Shootout | 101 | 9 |
| WEB.COM TOUR | United Leasing Championship | 101 | 19 |
| CHAMPIONS TOUR | Insperity Invitational | 52 | 7 |
| JAPAN TOUR | The Crowns | 42 | 41 |
| SOUTH AFRICAN TOUR | Zambia Sugar Open | 110 | 22 |