We are back with our popular Team Titleist Member Spotlight series, and in the latest edition we catch up with long-time Team Titleist member George T.
We learned many things about George, including why his hybrid is his favorite club, why he has two different markings for his Pro V1x and how he learned to groove his swing.

Check out the interview below to learn more about George T.

Team Titleist (TT): How did you get started in golf? Who introduced you to the game?

George T. (GT): I didn't become an active golfer until I reached my 40s, but my first introduction to golf was through my brother. He's 14 years my senior, and back in the late sixties, he asked me to caddy for him during a round. As I recall, the bag was bigger than me, but I wouldn't let that get in the way of an afternoon with my brother. After that day, I'd borrow my dad's clubs, which were left handed, and hit those practice wiffle balls out in the yard. I remember my father telling me to replace my divots, which I laugh at now, because we had just moved into a new home, and the yard was still mostly dirt. I'm sure he was just trying to teach me proper etiquette. Over 30 years later, my real passion for the game began. In 2001, a few rounds of golf with co-workers awoke the competitive juices that had been sleeping since I put down a baseball glove years and years ago. My wife bought me a new set of irons for my 40th birthday and I proceeded to break 90 for the first time. From that point on, my passion for the game began.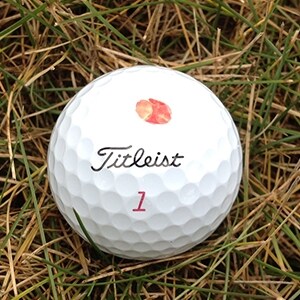 TT: How do you mark your Titleist?

GT: I used to try and mark my Titleist Pro V1x with sketches of guitars and martini glasses, but let's just say that my art school daughter didn't get those talents from me. I've since resorted to a very simple, large red or black dot above the Titleist logo. For those unfortunate, and lately too frequent, occasions where I'm hitting a provisional, my second ball has the same large dot below the number. I also draw a line to help align my putter head.

TT: What's your favorite Titleist club in the bag?

GT: While I like every Titleist club that is in my bag, I'd have to say that my favorite is my 910H 19* hybrid. My home course has a couple of tight par 4's and I've developed a strategy of aiming to the right side of the fairway and drawing the ball back to the center. This club has just suited my swing so well. I hope I'm not tempting fate when I adjust the loft to 20.5* for next season, as I've just picked up a 915H 18*.

TT: How often are you thinking about your golf game and getting better. What are you currently working on?

GT: I think about my game pretty much 365 days of the year, recalling good/bad shots and more often, smarter course strategy. I feel this season, I didn't manage the course as well as I should have, either approaching a shot with a grip and rip mentality, or making a lazy swing at vague targets. While my scoring average and handicap are about the same, I was never in that zone where I shot low like I had in previous years. So my mental check list going into rounds next year will be to visualize and commit to each shot. And while it is tougher to practice right now on the frozen tundra, I need to improve my short game. Just way too many poor chips and missed putts. In addition to the new hybrid, I just picked up a new Newport 2. While I'm stuck indoors, I'm using my Team Titleist alignment sticks and I'm working on my putting.

TT: Can you recall the best golf shot you've ever hit?

GT: I've never had a hole-in-one, so determining my best shot ever is a tough call. It's kind of like asking what your favorite song is – it depends on your memory at that moment. My best shot occurred this year during the Club Championship on the par 3 sixth hole at Pequot Golf Club. It's a downhill shot and on this particular day, the hole was playing around 155 yards. Using my AP2 7 iron, my ProV1x never left the flagstick. The ball hit the bottom of the stick on the fly but didn't go in. When I reached the green, I discovered a crater about the size of half the ball. It took me several minutes to fix the hole before I tapped in my birdie from 8 inches. I didn't win the Club Championship, but I did get closest to the pin honors that day, so I got that going for me.

TT: What's the best piece of golf advice that you have ever received?

GT: The best advice I'd ever received was from my father, who told me to loosen my grip and to just let the clubs do what they're designed to do. Take an easy, smooth swing and let the club do the heavy lifting.