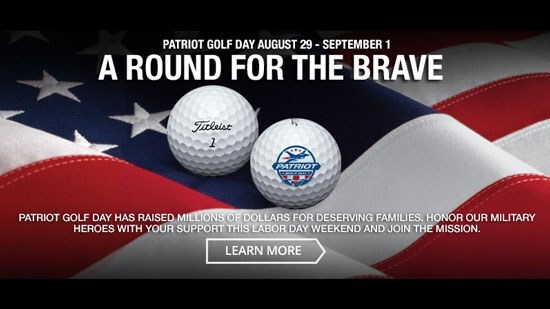 Join the Folds of Honor mission this Labor Day weekend, August 29th - September 1st, by playing a round of golf to support Patriot Golf Day and honor our military heroes.
You can make your round this weekend matter by adding an extra $1 to your green fees at participating golf courses and your donation will help fund Folds of Honor Foundation Scholarships. In the last seven years, golfers nationwide have been instrumental in raising donations through Patriot Golf Day events, resulting in over 7,500 scholarships in all 50 states and 41 PGA sections.
We're proud to support this great cause and we hope you'll join the mission this weekend. Find a course near you.
About Patriot Golf Day
Patriot Golf Day is the flagship fundraiser for the Folds of Honor Foundation, a 501(c)(3) nonprofit organization that provides postsecondary educational scholarships for the children and spouses of military men and women disabled or killed while serving our great nation. On Labor Day weekend, golfers across the country are asked to add an extra dollar to their greens fees to fund Folds of Honor scholarships. The Patriot Golf Day campaign is jointly supported by The PGA of America and the United States Golf Association.