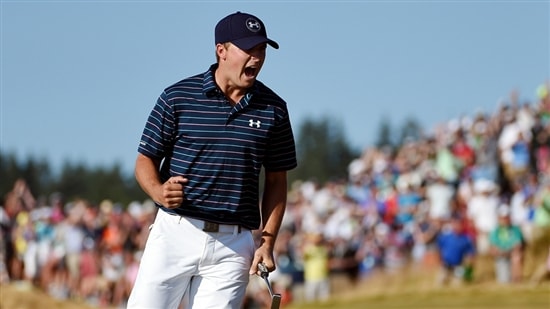 "The U.S. Open is conquering the hardest layout in all of golf. That's the way every year. The fact that we did it, is amazing."
Titleist Brand Ambassador Jordan Spieth showed an unshakeable focus at Chambers Bay this past week as he prevailed to take home his second career major title and the second of his 2015 campaign.
The secret to his winning formula?
"I can't give my secrets away. That wouldn't be right," Spieth joked during his post round interview. But he did share a little insight... "It's a mental attitude. It's a certain focus. It's a certain preparation."
And it's this commitment to preparation and drive toward constantly improving that keeps his game in top form.
"I can improve in all aspects of my game, I believe that," said Spieth. "And there's always a way to get better."
Congratulations, Jordan!
Let's take a closer look at the Titleist equipment that Jordan trusted from tee-to-green to win the 2015 U.S. Open at Chambers Bay.
WHAT'S IN JORDAN SPIETH'S BAG
Golf Ball: Titleist Pro V1x golf ball
Driver: Titleist 915D2 driver (9.5º) w/Aldila Rogue Black 60 TX shaft
Fairway: Titleist 915F fairway metal (15º) w/Graphite Design Tour AD DI7 X shaft
Utility Iron: Titleist 712U (3) w/Graphite Design Tour AD DI 105 shaft
Irons: Titleist AP2 714 irons (4-9) w/True Temper PX 6.0 shafts
Wedges: Vokey Design SM5, Raw finish pitching (46.08 F-grind), gap (52.08 F-grind), sand (56.10 S-grind) and lob (60.04 L-grind) wedges w/True Temper PX 6.0 shafts
Putter: Scotty Cameron 009 prototype putter
FAST FACTS: With the win, Spieth becomes the youngest player since 1922 to win two career majors and only the sixth player in history to win both the Masters and the U.S. Open in the same year.
#TeamTitleist