We're in the homestretch of 2014 and it's been another great year for us here at Team Titleist. But before we turn the page and start the 2015 journey, we wanted to take another look at some of our favorite moments from the past year.
So let's start the countdown and check out our favorite 14 highlights of 2014. First up, we revisit the launch of the new NXT Tour, NXT Tour S, Velocity and DT SoLo golf balls.
Check out the original post from January 22, 2014 below...
---
Titleist Advances Performance in 2014 with New NXT Tour, NXT Tour S, Velocity and DT Solo Golf Balls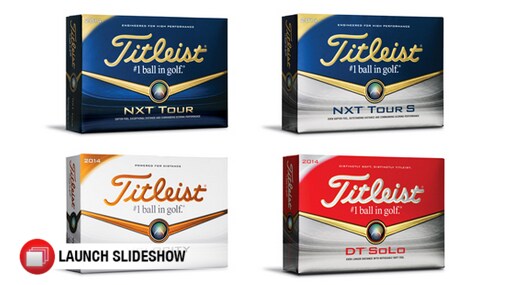 Performance Engineered Models Now Available in Golf Shops Worldwide
FAIRHAVEN, Mass (Jan. 22, 2014) – Titleist, the #1 ball in golf, delivers even better performance and feel in its new 2014 NXT Tour, NXT Tour S, Velocity and DT Solo golf balls through innovative core, cover and aerodynamic technologies.
Every Titleist golf ball, including the industry-leading Pro V1 and Pro V1x, is precision engineered by Titleist Golf Ball R&D associates and manufactured in the company's world-class owned and operated facilities to provide a meaningful performance and preference option. The new 2014 models offer the same renowned quality and consistency that have become synonymous with any golf ball stamped "Titleist."
...