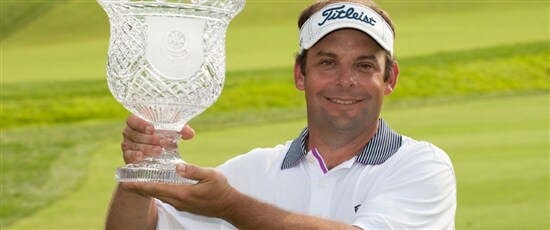 It was a dramatic 1-2 finish for Titleist Staff Professionals at the 48th PGA Professional National Championship (PNC) at Philadelphia Cricket Club. Matt Dobyns (Pro V1x), the PGA Head Professional at Fresh Meadow Country Club in Lake Success, N.Y., birdied the 18th hole to finish one shot clear of PGA Assistant Professional Ben Polland (Pro V1x) of Deepdale Golf Club in Manhasset, N.Y.
Dobyns and Polland lead a group of 20 PGA Professionals who earned a spot in the 97th PGA Championship next month at Whistling Straits in Kohler, Wisconsin.
This marks the second PGA Professional National Championship victory for Dobyns, who also claimed top honors in his championship debut in 2012. With the win, Dobyns becomes just the fifth player in the 48-year history of the PGA Professional National Championship to win multiple times.
Titleist Staff Professional Ryan Kennedy (Pro V1x), the Director of Instruction at Oakmont Country Club in Glendale, Calif., also made his mark in the championship by posting a final round 4-under-par 66 to establish a new competitive course record for the Wissahickon Golf Course. Kennedy hit 16 greens in regulation and his performance vaulted him 33 slots into a tie for 10th place, earning him an exemption into next month's PGA Championship.
TITLEIST EQUIPMENT HIGHLIGHTS FROM THE PNC:
Titleist was the golf ball of choice at the event with 141 players in the field trusting a Pro V1 or Pro V1x for their success.
WHAT'S IN MATT DOBYNS' BAG
Golf Ball: Titleist Pro V1x
Driver: Titleist 915D2
Utility Iron: Titleist 712U (3)
Irons: Titleist CB 714 irons (5 - PW)
Wedges: Vokey Design SM5 gap and sand wedges
WHAT'S IN BEN POLLAND'S BAG
Golf Ball: Titleist Pro V1x
Driver: Titleist 915D3
Fairway: Titleist 915Fd
Utility Iron: Titleist 712U (2)
Irons: Titleist CB
Wedges: Vokey Design SM5 gap, sand and lob wedges
WHAT'S IN RYAN KENNEDY'S BAG
Golf Ball: Titleist Pro V1x
Driver: Titleist 915D3
Hybrid: Titleist 915H
Utility Irons: Titleist 712U (2 and 3)
Irons: Titleist AP2 714 (5), CB 714 (6 - 9)
Wedges: Vokey Design SM5 pitching, sand and lob wedges
Putter: Scotty Cameron Newport 2 Select
#TeamTitleist