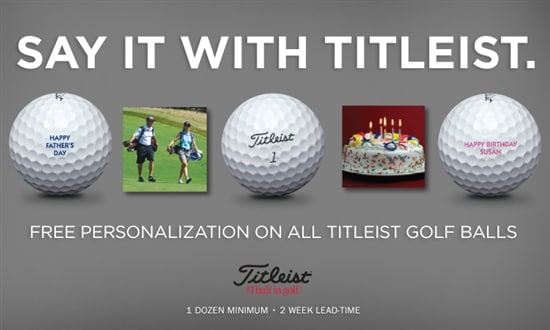 Spring has finally returned and as we welcome a new golf season, we're back with another great opportunity for you to personalize your Titleist golf ball or show some appreciation for the golfers in your life.
For a limited time (now through June 14, 2015), we're offering free personalization on all Titleist Pro V1, Pro V1x, NXT Tour, NXT Tour S, Velocity and DT SoLo golf ball orders.
Whether you're looking to fill your ball pocket with your own Titleist golf ball of choice or searching for the perfect way to say "Happy Mother's Day", "Happy Father's Day", "Thank You", "Congratulations" or to commemorate any special occasion… Say it with Titleist.
Here are the details…
Say It With Titleist: Free Personalization
• Free personalization is available on all Titleist golf ball models for new orders received from now until June 14, 2015.
• Create a unique message imprinted on the golf ball in up to three lines (maximum 17 characters per line) of block text on a single pole.
• Personalization must be the same imprint and ink color on each dozen in the order. Available ink colors include: Black, blue, red, green and pink.
• Minimum order is one (1) dozen golf balls.
• Additional fees may apply for orders specifying individual play numbers (all #1's, all #2's, etc.) as well as Double Digit play numbers (#11, #23, #54, etc.).
Visit any authorized Titleist golf ball retailer to place your order. Click here to find a golf shop in your area.
http://www.titleist.com/locator.aspx
U.S. only. Lead-Time: 2 weeks from receipt of order.