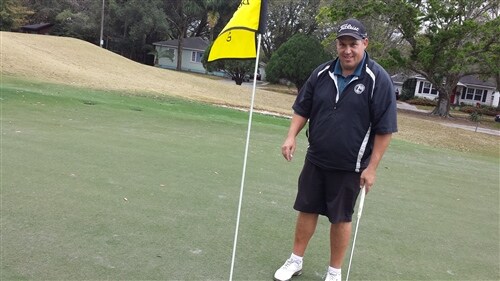 Played 18 with a member of my club in the morning at a local municipal course named Dubsdread GC in Orlando, FL.
I didn't have a good round and wanted to get some more work in. Since it was 11am, I thought I had some time to get in another 9 for sure before my teaching clinic.

Played the first 6 holes solo cruising along. Joined a twoball on the 7th tee and picked up a fourth a friend of mine on 10 tee. My buddy likes to talk all day. A couple birds shut him down some but winning the 14th with his bogey net par he was feeling particularly chipper on the 15th tee, a par 3 playing 157 to the pin this day. He hit a good shot about 12 feet, so the pressure is on with his 6 a side stroke advantage.. Didn't think anything in particular except short and sweet through the ball due to wind conditions.. As i struck the shot it heeded right of the pin with a small draw.. bounce and roll....plunk... in she goes.. Buggar almost made his birdie for the push...atleast he didn't tarnish the hole in one.
Read more