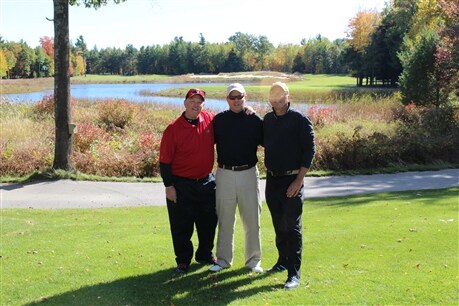 Every year a small group of close friends try and have a final golf weekend in the great Northern Midwest. This year we chose Northern Michigan and what a trip it was.
We started on Friday with a windy round at Arcadia Bluffs where i shot a miserable 107. My playing partners Jerry Richardson and Brent White kept their number in the 80's and played great golf considering the conditions and course.
The rest of the weekend was better played golf but what i would consider bad on my part. We played 36 on Saturday first Manitou Passage up near Glen Arbor. This course was design by AP back in the early 90's. I was fortunate to meet him there when the course opened. The second round was played at The Leelanau Club near Traverse City MI.
We raped up the trip at Hemlock Golf Club on our way back to Glenview IL. We where delayed over an hour due to frost but when the sun came up the course revealed itself. Very beautiful but diabolical in design. I was off with an average start and after 4 hole i was 5 over. Note great but I was striking the ball better. Then on the 5th I grabbed my 6 iron and approved the tee box. We where looking at a 156 yard par 3 up hill with a little wind in our faces. I had the box first, which was very rare on this trip, and swung away. We could not see where the ball landed but we all knew it was tight.
When we approached the green there where only 2 balls in site, so i went back to the cart to grab w wedge. I naturally assumed I was over and was disappointed that a great shot was not rewarded. Then Brent asked Jerry to look in the hole, we all got a great laugh, until Jerry yelled out IT'S IN THE HOLE! I shot a 92 that day which is about my norm, but I got my first hole in one and that was a fantastic feeling and a great way to end 2014 golf season.
Play On!
Read more