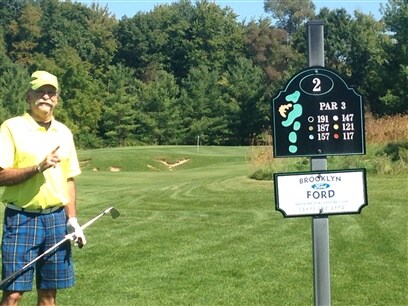 After 52 years of being a student of golf, made a hole in one today! The Grande in Jackson,MI #2 , 158 yards, 6 iron...... Witnessed by Bill Meyers, Ryan & Lance Cadmus! Wasn't worth a darn the rest of the way after that... Thought I was going to play well, but after the ball disappeared, it was tough.....Hit a shot towards the flag, it hit pretty close, I guess about 3-4' from the hole, hopped once, then all of a sudden it was gone... if you would have told me before we went today that this would happen, I doubt I would have believed it.......Been trying for so long, didn't know that I would ever make one. Guess I did realize the last couple years that it would be helpful to actually hit a shot onto the green on a par 3 hole...
I have played Titleist Pro V 1X for a long time, best ball around.
I was glad to have my buddies be able to see it with me, been playing with Bill for over 40 years, that's a lot of shots.......
Read more