Titleist Brand Ambassador Ryan Blaum is #ProvingIt this season by constantly looking for new ways to improve, from forming a new partnership with veteran Tour caddie Shane Joel, to putting new equipment in the bag when the course and conditions warrant a change.
When we caught up with Ryan at this year's WM Phoenix Open, he and Shane had discovered that he needed a different long game option to take advantage of the par-5's on the Stadium Course at TPC Scottsdale. They'd find the solution working with Titleist Tour rep, J.J. Van Weezenbeeck, in the form of a new TS 5-metal.
"I'M PRIMED. I'M KNOCKING ON THE DOOR"
- Ryan Blaum
Enjoy the video and see how Ryan's willingness to embrace change resulted in four new shots in his arsenal.
• • •
Editor's Note: Titleist's Joe Hafera, who produced the video to the right, caught up with Ryan during last week's Zurich Classic of New Orleans and he shared the following update:
Ryan Blaum tees off during final round action at the 2019 Zurich Classic of New Orleans
The rainy weather in New Orleans causes Ryan Blaum's Thursday round at Zurich with playing partner Russell Henley to be pushed to Friday. Friday becomes a 36-hole marathon, but Blaum and Russell Henley make the cut. Running on fumes, Ryan trudges through the last 3 holes on empty. But, the duo powers through Saturday and ends the day inside the top 10. The pair feel like if they can rest up and get their legs back, Sunday could be their day. 

Saturday night's dinner is an ordinary dinner out on the road during a PGA Tour season: a sober, nutritious intake to fuel up the body for a Sunday charge. 

Oh wait, Murphy's Law. Saturday's dinner gives Ryan food poisoning. 

Overnight, he spends more time awake in his hotel bathroom than sleeping in his hotel bed: his system is losing a battle that no one ever wants to lose, and his body is losing nearly every bit of nutrition and fuel he had just taken in. 

Sunday's a tough go for an understandably fatigued and malnourished Blaum. Ry and Russ fight for a T-18 finish at Zurich that they're proud of. 

What could have been.

Blaum spends Monday recovering at home in Jacksonville, just starting to feel like he can again eat without fear. Tuesday, he and his wife drive from Jacksonville to Charlotte, for Ryan to play in this week's Wells Fargo at Quail Hollow.

"Patience is the keyword I've kept repeating to myself all season"
"Patience is the keyword I've kept repeating to myself all season," Blaum tells me through his car's speakerphone. "There's such a fine line between making the cut and not, and winning a golf tournament and a top-25 finish."

On the year, Blaum has made 12 of 18 cuts and has 4 top-25 finishes. He's currently 101 in the FedEx Cup standings. Solid start to any season. 

But right now, Blaum sits right outside qualifying for the PGA Championship field and knows a top-5 finish at Quail would punch his ticket to Bethpage Black. But it's not major stress that is making his stomach turn Tuesday. "I'm feeling a little better. But, I might not play a practice round this week--might just concentrate on recovering and tee it on Thursday."

After playing 54 championship holes in 2 days, with the final 18 battling food poisoning, no one is arguing with this approach. 

But Ryan's not phased. "I'm primed. I'm knocking on the door. I just need a good start on Thursday and I feel like I can win a tournament."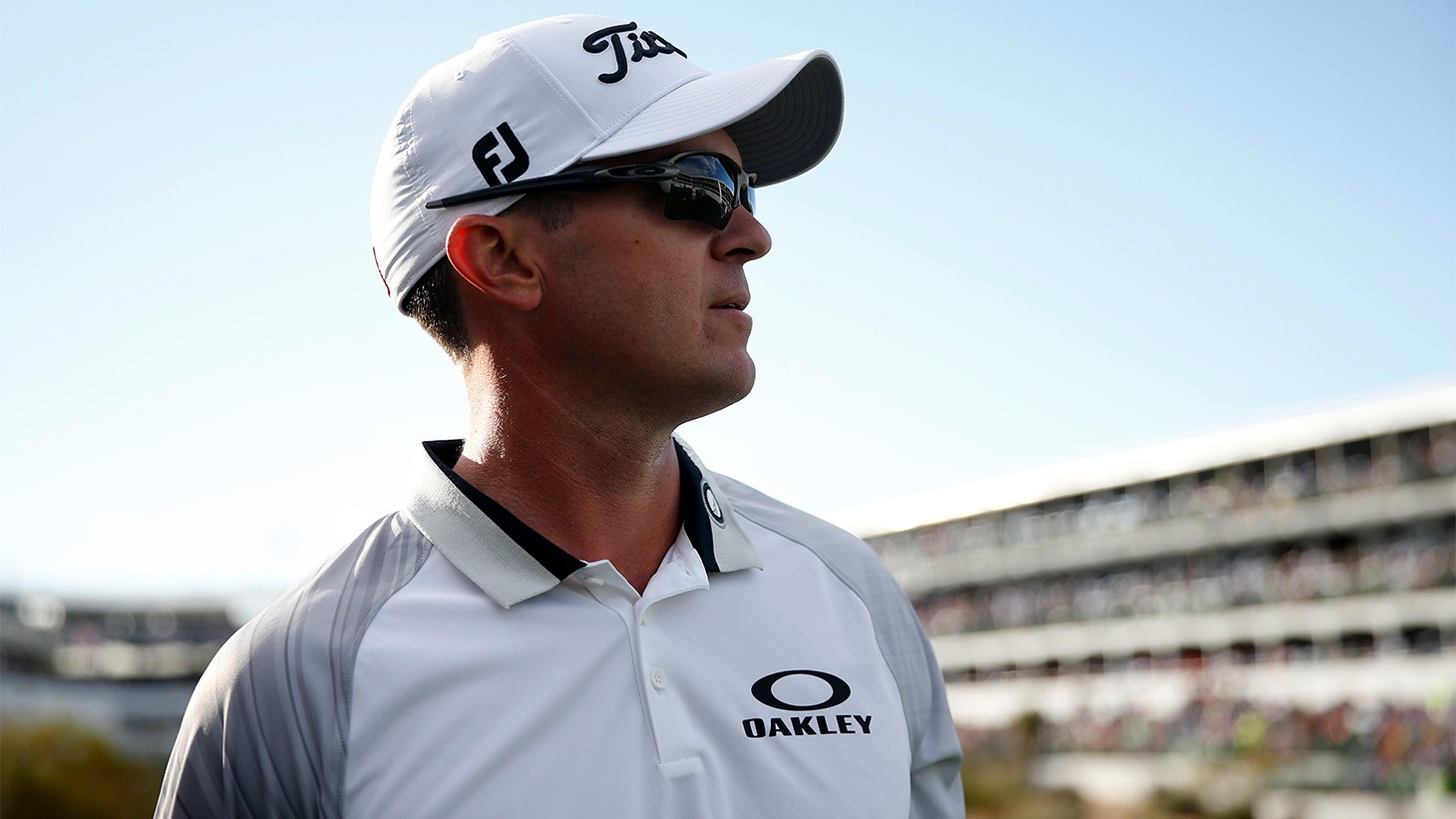 Ryan Blaum on the stadium hole — the 16th — at TPC Scottsdale
What's been the best part of Ryan's game in 2019, that has him feeling confident heading into May?

"I feel I've been driving the ball fantastically since I switched to the Pro V1x and TS2 in the off-season. I'm not sure if stats will reflect that, but I'm feeling it on the course. Last year, I was 10 yards shorter than some of my buddies I played with in practice rounds, and now I'm 10 yards past the same guys. TS2 dropped my spin tremendously compared to my previous driver, and I'm reaching par 5's that I never reached before with the Pro V1x."

Putting, Blaum admits, hasn't been as good as what he expects from himself. But he recently made a small tweak there that he thinks will give him more confidence.

"I had the same grip on my putter for 9 years. I recently got it re-gripped to try to help me feel something in my stroke. It's the same grip, but it's set slightly open. This helps me feel like the putter swings easier--I can feel the toe open on the backswing more than I used to."

Patience can sound like a cliché in golf. But Ryan is proving that patience is the best antidote for unexpected turns in a season on tour. And it might be what gets him into the field at the PGA Championship. 

That being said, he's still playing to win this week in Charlotte, "If I'm on the back 9 on Sunday, and I feel like going for it might win me the tournament, and laying up might land me in the top 10--I'm going for it. I'm playing to win, man. Every time."
#TeamTitleist
#PROVINGIT
We're all playing this game with an eye toward getting better. Setting new goals. Trying new drills. Just like new Pro V1 and Pro V1x, we're striving for constant improvement and we're always Proving It. Just like you.