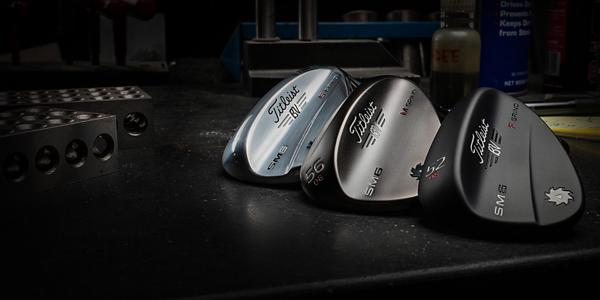 Craft inspired. Tour validated.

Technology to perform.
New Spin Milled 6 wedges establish a new performance standard by improving in the three key areas of wedge play: precise distance gapping, shot versatility and maximum spin.
Available Lofts: 46° - 62° (RH/LH) | Complete Specs
Available Finishes: Tour Chrome, Steel Gray, and Jet Black

MSRP: $169 (steel) | $195 (graphite)
Interested in SM6?
The best way to truly appreciate the high performance value of Titleist golf clubs is to try them for yourself. Explore the variety of Titleist fitting and trial experiences using the link below or by calling 1-888-TITLEIST.
Selecting the Right Wedges for Your Game
Spin Milled wedges provide the widest selection of bounce and grind options to fit your swing type, shot technique and course conditions, with more sole grinds taken directly from Bob Vokey's work with the world's best players.
Titleist Custom Golf Club Options
Titleist offers an extensive selection of shafts, grips, specifications and other customization options to help you perform to your potential.