THE ENDLESS PURSUIT
INSIDE THE JOURNEY FROM PROTOTYPE TO PRO V1- By Eric Soderstrom
It's the last day of October, just after 7 o'clock in the morning, 15 miles west of the Las Vegas Strip. The sun that spotlights the outlying mountain range has yet to spread over the driving range at TPC Summerlin. It's cool and calm, so far a run-of-the-mill PGA Tour Monday, tuned to the soundtrack of intermittent golf cart engines and the chitchat of five tournament volunteers, each recounting their brushes with fame over the years here at the Shriners Hospitals for Children Open.
They're stationed under a tent on the far side of the range, where they will spend the week distributing practice balls and stockpiling stories for next year.
None of them are looking for Waldo, that's for sure. Yet there he appears, in familiar fashion – red-and-white-striped hat and shirt, bright blue pants, Coke bottle glasses – plodding toward the middle of the range. Waddling in behind him, there's a man in a penguin costume, followed by three others dressed as characters portrayed by comedian Will Ferrell in "Anchorman" (Ron Burgundy) and "Semi-Pro" (Jackie Moon), and on "Saturday Night Live" (Spartan Cheerleader Craig). Unmistakably, this is Las Vegas week on the PGA Tour.
Still there is more to the story, as one of the range volunteers admits: "I forgot. Today is Halloween."
"FOR US, THERE IS NO BEGINNING OR END TO THIS PROCESS"
- Bill Morgan, SVP Titleist Golf Ball R&D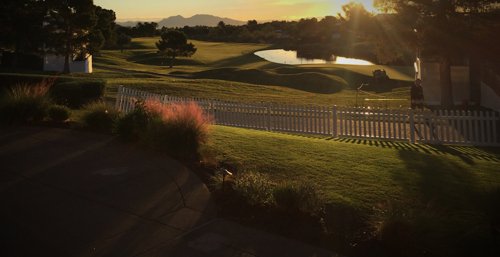 Inside the TPC Summerlin clubhouse, meanwhile, at the back of the players' locker room, Todd Harris, a Titleist Tour Representative, is surrounded by stacks of cardboard boxes, each sealed with distinct white packing tape. He pulls a small utility knife from his back pocket and slices one open, revealing a case of plain, white golf ball dozen boxes – each of them clearly out of costume, but full of treats nonetheless.

For history's sake, this moment, however unspectacular, officially marked the debut of the 2017 Titleist Pro V1 and Pro V1x golf ball models on the PGA Tour. It's a holiday of sorts that you'll hear tour players, anxious to put the new golf balls in play before anyone else, liken more to Dec. 25 than Oct. 31.
But this holiday only happens once every two years and means different things to different people. On the other side of the country, at Acushnet Company World Headquarters in Fairhaven, Mass., Bill Morgan, Senior Vice President of Titleist Golf Ball R&D, is in his office with a couple members of his team, discussing a possible new development for 2019. Or perhaps 2021.
"For us, there is no beginning or end to this process," Morgan says. "We have something we've been working on since 2015 that may or may not make it into the next product. I honestly don't know. But when I do, I'll tell you."
T
he doors to the TPC Summerlin locker room open. In walks Billy Horschel, travel bag in tow, sunglasses hanging from his front collar, greeting everyone that he passes. Horschel finds the locker with his name on it and flips open the door. Inside, there are a couple clothes hangers, a box of FootJoy golf shoes, a putter leaning against the back panel. On a middle shelf sits two white boxes of golf balls.
Todd Harris, head down, is jotting down notes on a folded sheet of paper when Horschel arrives from around the corner. This time, there's no time for pleasantries.
"Which one is the black triangle?" Horschel says. "Tell me these are black triangle."
Eight months earlier, during a practice round at the WGC-Cadillac Championship at Doral, Horschel set up over a golf ball that was unmarked except for a single black square. A second ball, marked only with a black triangle, was a foot away. Fordie Pitts, Tour Consultant for Golf Ball R&D, stood off to one side with a couple white boxes tucked under his arm, watching intently as Horschel sent the black square skyward down Doral's third fairway. Horschel reached over to the black triangle with the head of his 5-iron and rolled it into position. Thwack. He waited for Pitts to join him before starting his walk down the fairway. They stopped about 35 yards from the green, where Pitts dropped two golf balls to the ground. One black square, one black triangle. He asked Horschel to hit a pitch shot with each ball, then tossed over a couple more. This process continued for a few more holes, Horschel hitting the prototypes side-by-side on different types of shots and providing Pitts with his feedback on their performance, remarking on things like distance, flight, spin and feel.
For the first seven months of 2016, this is how Pitts and colleague Jeff Beyers spent many of their Mondays, Tuesdays and Wednesdays, tagging along with tour pros for a few holes during PGA Tour practice rounds and testing a variety of prototypes, most of them marked only with a square or a triangle in three different colors: black, gray and white.
Over this same period, Frederick Waddell, Senior Manager of Titleist Golf Ball Product Management, mailed out six different double-blind prototype tests to more than 12,000 members of Team Titleist, Titleist's community of avid golfers and brand fans, featuring the same squares and triangles in white boxes being tested on tour. Those golfers also received a note instructing them on how to test the two golf balls side-by-side, and requesting their performance results and comments through an online survey. 
"I used both balls until I lost them," one Team Titleist member wrote at the end of the survey. "Both are great, but the triangle ball is the best ball I have ever hit. I snap hooked it out of bounds, it hit the road and I looked but could not find it. Went back later after the round (it was my last one) found it, put it on a tee the next day and shot 68. I am very interested if you are coming out with this ball and if not, which of your balls is the closest to this ball now."
"THE TRIANGLE BALL IS THE BEST BALL I HAVE EVER HIT."
- Team Titleist Member
It was at the Titleist Performance Institute in Oceanside, Calif., during the week of the 2016 Farmers Insurance Open, where the square and triangle prototypes were first tested by Jimmy Walker.
Adam Scott also made a February trip to the Titleist Performance Institute, where he spent at least an hour testing the prototypes, hitting drivers and irons on the range with TrackMan before moving to the short-game area to hit what he described as "fuller wedge shots" (95 yards with his Vokey SM6 54º) and then 50-60 yard pitches.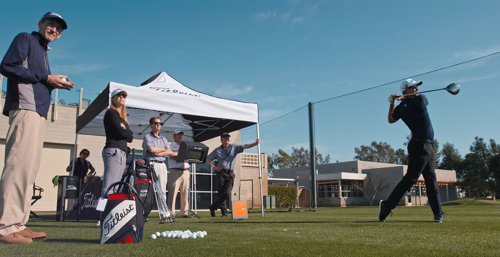 During a practice round at the Waste Management Phoenix Open, fans hooted, hollered and hurled questions as Pitts, standing in the middle of The Stadium Course's second fairway at TPC Scottsdale, tossed a couple square and triangle prototypes over to Rickie Fowler.
After only a few holes of testing at Doral, Kevin Kisner was sold on white triangle. "For the next few months, there were many times someone would walk by me saying 'Triangle, triangle, triangle!' I'd turn around and it'd be Kevin," Pitts says. " 'When can I play the triangle, Fordie?' "
An internal document titled "Acushnet Company R&D Test Results," dated March 9, 2016, with the title "2017 Pro V1 prototype," includes the following abridged notes on Kisner's feedback: "That Triangle flew great and went a long way!!! That felt like 20 yards longer than my ball. The Triangle felt great with the irons and I hit it close. Feels great. I even mis-hit it on the Par 3 (4th hole) and it should have gone in the water but it carried just far enough to stay up. I like the Triangle."
Jordan Spieth's first encounter with the early prototypes came during The Players Championship. Spieth walked with Pitts on Nos. 2-4 at TPC Sawgrass, testing black square and black triangle.

"I FEEL VERY FORTUNATE THAT R&D ARE SO COMMITTED TO BEING OUT THERE"
- Jordan Spieth
"It's a very unique experience. It takes time," says Spieth of the prototype testing process. "They're very patient. You get to hit shots in a practice round of an event, so you're at a tour quality course in tour conditions and you get to see the difference off a driver, iron and wedge shot, that you wouldn't necessarily have that experience at home. I feel very fortunate that R&D are so committed to being out there having us try these out in practice rounds at tour events, just messing around a couple holes. It's very, very helpful for us and I think it's very helpful for Titleist."
Six months later, Spieth went on to win the Australian Open playing 2017 Pro V1x for the first time in competition, followed by three consecutive top-10 finishes and a win at the AT&T Pebble Beach Pro-Am. The black triangle, it turns out, was a close cousin of 2017 Pro V1x.
Great news for Billy Horschel.
From the first tee at TPC River Highlands, it's about a 15-yard walk through a clubhouse backdoor that leads into the bottom floor of the building. It's there, in a corner room, where members of Titleist Golf Ball R&D spent Tuesday at the 2015 Travelers Championship, sitting around a table scattered with bottles of Dasani, Styrofoam coffee cups, notepads and pens, talking with PGA Tour players about golf balls. Particularly, Pro V1 and Pro V1x. A video camera was running.
Throughout that summer, with the 2015 Pro V1 and Pro V1x models only about six months old, Titleist R&D collected more than 50 hours of recorded focus groups, featuring more than 100 participants from the PGA Tour, European, LPGA, Web.Com and Champions tours, as well as amateur golfers and members of Team Titleist. The participants ranged from major champions to double-digit handicappers.
But on that Tuesday in Connecticut, one particular moment stuck out, at least for Doug Jones, a Project Manager in Golf Ball R&D who has been developing tour-played golf balls at Titleist for over 20 years.
During an afternoon session with Troy Merritt, Zac Blair and Luke Guthrie, the following question was posed by Matt Hogge, R&D's director of product implementation: "If you could change the golf ball that you're currently playing, what would you like to see?"
Merritt was quick to chime in: "More birdies, that would be nice." Blair chuckled, nodding in agreement.
"IF YOU COULD CHANGE THE GOLF BALL THAT YOU'RE CURRENTLY PLAYING, WHAT WOULD YOU LIKE TO SEE?"
- Matt Hogge, Director Product Implementation
Merritt continued: "I'm really happy with the ball (2015 Pro V1). Distance isn't huge for me. I know I'm not a bomber, so I just play to my strengths, which is get the ball in play and get it around the green and get it up and down. With the courses we're playing these days, five extra yards could be nice off the tee, but I'm not looking for 20 extra yards off the tee because I know I'm not going to get that. A little bit extra distance would be fine but I don't want to sacrifice the feel I have with the irons, the wedges, being able to flight it, and being able to hit the knock down shots..."
Hogge: "Five free yards would be all you'd want?"
Merritt: "Five free yards, yeah. If I don't have to pay for them, if I can stay in the fairway, then we're golden."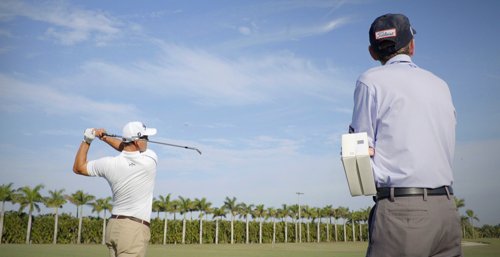 Later that evening, on the car ride home to Massachusetts, Jones broke a couple minutes of silence with a thought that was more a hypothesis: "Matt, I think we have those free yards."
Jones had been working on a new core formulation, which, according to preliminary testing, was producing a combination of lower spin and higher ball speed, two improvements that don't typically come as a pair.
"Whether it was in our focus groups, at our ball fitting events around the country, or in our many surveys to Team Titleist, we started to hear the same thing from golfers about Pro V1," Hogge says. " 'I'd like a little more distance but I still want a Pro V1. I love the feel, I love how it performs around the green, the trajectory is right where I want it. If you can maintain those things but make it as long as, say, Pro V1x, that would be perfect.'
"It's a simple thought. Who wouldn't take more distance? But the difference between 'more' yards and 'free' yards is night and day. If your only objective is to make a longer golf ball, that's easy. If your objective is to make a longer golf ball without sacrificing other performance characteristics? That's where it gets complicated. Fortunately, we already had some testing results that supported what Doug was saying. It really was about just making that next step and getting to work."
"I'M HITTING IT LONGER THAN I EVER HAVE"
- Adam Scott
About 15 months later, a week before the 2016 Australian Open, Adam Scott arrived at his home on the Gold Coast of Australia, where a shipment of final 2017 Pro V1 prototypes sat waiting for him. He spent the week testing them during afternoon rounds at Sanctuary Cove Golf & Country Club. The following Thursday, on the first tee at the Australian Open, he teed up a 2017 Pro V1.
"I think the remarkable thing with the new Pro V1 is how far it goes now," he said that week. "I'm hitting it longer than I ever have but I also have that soft feel like when I grew up playing a balata golf ball – it's incredibly soft. For me around the greens, that's a sound and a comfort thing that I really like about it. I don't have that clicky sound, I have that kind of melt-on-the-face soft feel."
While most of the focus groups conducted by Golf Ball R&D during the summer of 2015 consisted of three, four or five golfers, and lasted no more than an hour, Padraig Harrington's session at TPC River Highlands was a one-man show featuring more than 70 minutes of insightful and often impressive commentary on golf ball and player performance.
The three-time major champion is, quite unabashedly, fascinated by the quest for constant improvement and optimal performance, not unlike the golf ball makers sitting around him that day. 
"I want to know why everybody hits the golf ball the way they do," Harrington says about 20 minutes through the discussion. "You would struggle to name too many players out here on tour I couldn't tell you their swing speed and ball speed… I want to understand what keeps me long or not long. So if I see a guy who's hitting it outside me, I want to know whether he's doing it on pure speed or whether he's doing it with efficiency."
"YOU HAVEN'T HEARD THIS STORY BEFORE…"
- Padraig Harrington
Twenty-five minutes later, Harrington leans over, placing both of his palms flat on the table. Watching the tape back, you can almost see the memory pop into Harrington's head as he interrupts what has been at least a half-hour straight of highly technical back and forth. "You haven't heard this story before…," he says with a grin.
Late Sunday afternoon at the 2007 Open Championship at Carnoustie, as it became clear that Harrington was headed to a playoff against Sergio Garcia, the nerves really started to kick in for Ronan Flood, Harrington's caddie. Flood's father, along with two sleeves of Pro V1x, had gone missing.
That morning, Flood, trying to keep his boss' bag as light as possible, handed the golf balls over to his father in the gallery for safekeeping, two sleeves of insurance in the event that Harrington needed them for the Open's 4-hole aggregate playoff. "Obviously," Harrington says, "he was thinking right."
Yet when Flood went to claim them about five hours later, amid the chaos of fans hurrying back onto the course and jostling for position around the first tee, his father was nowhere to be found.

That's when Harrington sent his manager, Adrian Mitchell, through "the melee" and into the Carnoustie pro shop. When Mitchell walked out, he was holding two sleeves of Pro V1x. "Probably the best thing about Titleist is what we play on tour is exactly what you're going to get in the shop," Harrington says. "I was going to tee it up on the first playoff hole of the Open with a Titleist Pro V1x with the Carnoustie Golf Club logo on it."
Only then, Flood found his father. Four holes later, Harrington was presented a Claret Jug to go along with those six, now commemorative, golf balls.

"That story really gets to the essence of the Titleist brand," says Waddell, watching the tape back in his office a year later. "Consistency and performance go hand in hand. The last thing a golfer needs to worry about when teeing up a new golf ball is whether or not it's going to perform the same as the last one."
The Country Club of New Bedford, a classic Donald Ross design, sits right off Route 6 in North Dartmouth, Mass., in the middle of a bustling business area, surrounded by see-through wire fencing. It's easy to spot as you drive by, perhaps on the way to Titleist Ball Plant 3, which is no more than 15 minutes away.
It was at CCNB, one Sunday in 1930, where Phil Young, the owner of nearby Acushnet Process Company, a precision molded rubber company, lost a match after missing a short putt on the final hole. Young, an avid golfer, took many swings that day that produced both inconsistent and bewildering results, and gradually became convinced the problem was not his swing. As he told his playing partner, Dr. Bonner, over and over as they sat in the clubhouse after the round, the problem was his golf ball. Something was wrong with his golf ball.
So they took it to the hospital. Dr. Bonner, by good fortune, was the head of the X-Ray department at St. Luke's Hospital, located less than three miles from CCNB. When they got there, they put Young's ball under the X-Ray machine. The X-ray showed the ball's core was indeed off-center, a construction failure that would have caused the ball to fly erratically and, on the putting green, roll off line. X-rays of many other brands available in the CCNB pro shop, which they retrieved from the head pro later that afternoon, revealed similar results – inconsistent cores sizes that were off-center and out of round.
SOMETHING WAS WRONG WITH HIS GOLF BALL.
SO THEY TOOK IT TO THE HOSPITAL.
It was then, at the start of the Great Depression, amid the excitement of Bobby Jones winning the Grand Slam and a prevailing opinion that golf balls were as good as they can be, that Young decided he would enter the golf ball business. He convinced his former MIT classmate, Fred Bommer, a chemical engineer already with years of golf ball manufacturing experience, to join him.
"Phil Young knew that by implementing a better design and manufacturing process he could set the standard for golf ball performance and quality," says Bill Frye, Senior Vice President of Titleist Golf Ball Operations. "Those are the values, of leading-edge innovation and process excellence, that have inspired and driven our people and our processes for the last 80 years."
The first Titleist, a revolution in both golf ball development and performance, was introduced in 1935. Golf balls at that time were three-piece constructions featuring a solid or liquid center, wound core and cover. The new Titleist had a liquid center that was about 40 percent smaller than other balls on the market, resulting in a significantly larger core.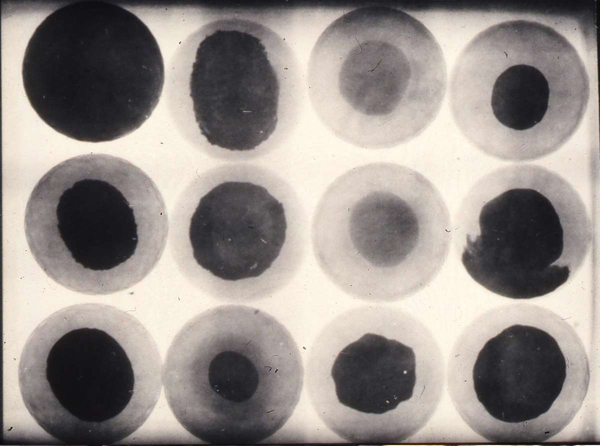 To create the core, Young and Bommer used a proprietary elastic thread and winding pattern that produced both high compression and improved adhesion between the wound core and cover. They also introduced a new procedure that would be used for decades to come: The liquid center was frozen, ensuring it stayed perfectly round during the winding process. It allowed the thread to be wound tighter, as well, producing the fastest golf ball engine to date.
At the end of the process, there was an X-ray, a quality control check intrinsic to Young's vision that is still in practice today. Every single Pro V1 and Pro V1x golf ball is X-rayed before being packaged. It's the last of more than 90 product and process quality checks (120 for the dual-core Pro V1x) executed throughout the process to ensure each golf ball delivers consistent performance, whether shipped to a PGA Tour locker room or the pro shop at CCNB.

"Phil Young's mission was to make the best golf ball in the world," says Dan Gendreau, Senior Director of Titleist Golf Ball Manufacturing. "He chose to do that right here in the greater New Bedford area and tapped into that work force and the strong work ethic and commitment to a purpose that our people showed 85 years ago and they still show to this day."
Gendreau, who oversees operations at Ball Plant 3, is entering his 30th year with the company, a statistic that is equal parts impressive and ordinary.
"You think about the things that have made us successful over the years and distinguish us from our competition," says Gendreau. "It's that we only make Titleist golf balls to Titleist specifications in Titleist owned facilities with Titleist associates. I can't emphasize that last point enough, the wealth of golf ball making knowledge that we have from literally generations of families that have been employed with the Acushnet Company. In greater New Bedford, we average over 21 years of service."
Gendreau's two most senior associates began working for the company in 1965. (That's 52 years, and counting.) One of them, Diane Medeiros, spent her first 35 years winding golf balls. Then came Pro V1.
The Titleist Golf Ball R&D department is located on the first floor of company headquarters. Only those with specific credentials are allowed access, mostly due to the confidential nature of the work, thankfully because it's very easy to get lost in there. At first, it seems like an everyday office setting, a large room filled with offices, cubicles, water dispensers and coffee makers. Turn the corner, however, and it starts to take on the structural qualities of a great old pub, full of surprising nooks and crannies, one room you weren't expecting after another.
There are chemical labs that feel like the set of "CSI." There are rooms that act as a small-scale Titleist ball plant, filled with some machines that look like golf-ball making machines and others that would look more suited for NASA. There's a machine shop, where technicians not only build and maintain the machines that make golf balls but also the machines that test them (like the brand-new Titleist short-game robot, affectionately known as "Black Widow"). There's a durability testing room where earplugs are mandatory, in order to muffle the sound of golf balls being fired against metal plates repeatedly at high speeds. Inside a caged-in hitting bay, there's a souped-up mechanical golfer and a launch monitor you wouldn't recognize, both constructed by R&D, plus another built-from-scratch apparatus that ensures launch monitor readings are accurate.
"WE'RE NOT GOING TO INTRODUCE SOMETHING UNLESS IT'S PROVIDING A REAL, DISCERNIBLE IMPROVEMENT."
- Matt Hogge, Director Product Implementation
Everywhere, there are golf balls. Parts of golf balls, pieces of golf balls. People, too. There are about 80 associates that make up the Titleist Golf Ball R&D team, including chemical engineers, mathematicians, materials scientists and physicists. There's also, literally, a rocket scientist.

Mike Madson, who has Master's Degrees from both Dartmouth (Engineering Management) and Penn State (Applied Statistics), is the department's Senior Engineer of Aerodynamics and Tooling. Walking past his workspace provides just a small glimpse into the overall R&D process.
Tacked to a wall are at least a dozen printouts of golf ball dimple patterns. Within each pattern, every dimple is color-coded, offering a Cliff Notes version of the overall dimple layout and quantities of different dimple sizes. On his computer screen is a 3-D model of a golf ball, zoomed in to a specific area of dimples.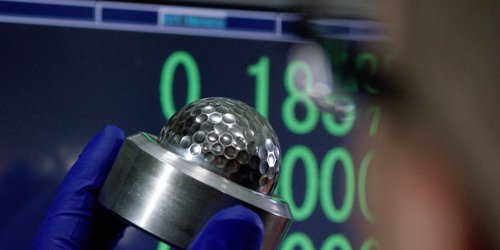 This year, for the first time in three product generations, both new Pro V1 and Pro V1x were introduced with new dimple patterns. The improvements, simply put, take the aerodynamic consistency of both models to another level.
"What I noticed immediately was the improved flight. It held its line in the crosswinds'," Jordan Spieth said last November after winning the Australian Open, where he put the new Pro V1x in play for the first time. "A couple shots that were going off-line stayed closer to the fairway or closer to the green, which allowed me to save par when I may have been in trouble."
During his pro-am round at the Australian Open, Adam Scott, playing 2017 Pro V1 for the first time in competition that week, hit a 360-yard drive down the 15th tee of Royal Sydney Golf Club with the wind at his back.
"I just launched it a little bit higher and I couldn't believe how far it went," he said.
Three holes later, on No. 18, the wind now directly in his face, Scott hit his drive 295 yards down the middle of the fairway.
"I hit my more flat ball flight and the wind just didn't touch it. The versatility of that, to be able to really control what I'm doing, to be able to know that if I make this swing this will happen. That's a very nice feeling when you step on a tee."
Madson estimates more than 80 dimple patterns were evaluated during the development process for 2017 Pro V1 and Pro V1x, though how we define "evaluated" in this instance requires further exploration.
"For Mike to get excited over something means he has to beat his benchmark, and the benchmark is Pro V1 and Pro V1x," Hogge says. "We're not going to introduce something unless it's providing a real, discernible improvement. And that takes time. 'Better' takes time."
It starts in front of the computer. Madson, drawing upon years of knowledge and data while keeping the overall design goals of each model clearly in mind, experiments with layouts and dimple sizing through CAD (computer-aided design) modeling. Eventually – "Some of the experimental patterns that we looked at have been in the works since 2012," Madson says – he lands on a viable pattern. Next, that pattern is used to create a "family" of patterns. Each pattern in the family has the same overall layout and dimple sizes but incorporates variations such as different dimple depths and edge angles.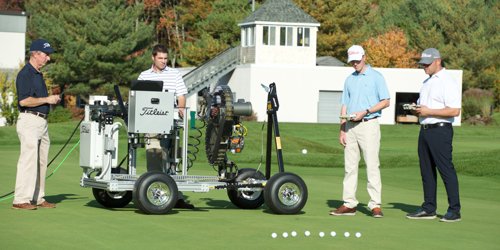 The designs are then sent to the Titleist Tooling team, which is tasked with making the dimple molding cavities. That process starts inside an unmarked building just a short drive from Titleist HQ. It's there, amid flying sparks and the smell of burning metal, where Titleist manufactures every single one the golf ball mold cavities that are used in the process that forms the cast Urethane Elastomer cover and dimple patterns for Pro V1 and Pro V1x, as well any prototypes that R&D designs for those models. The mold cavities for every other Titleist golf ball are also made here.
"I can be at my desk in R&D working on a new pattern in CAD, send the file up the street, and 20 minutes later be there with the technicians to start making the hobs," Madson says.
A "hob" is the machine tooling used to create a cavity. Every hob is also manufactured in-house through a process that utilizes advanced machining technology. To make one hob, it takes 24 hours.
"There are many examples of our teams having to, for lack of a better phrase, make the stuff that makes the stuff," says Waddell. "At Ball Plant 3 alone, tens of thousands of golf ball cavities are needed to supply the urethane casting lines for Pro V1 and Pro V1x. And they all have to be the same. If you don't have control over every part of your process, the consistency of the final product is always in question."
PASS THOSE TRIALS, IF YOU'RE A PROTOTYPE,
AND YOU'RE LIKELY HEADED FOR A WHITE BOX.
Once prototypes are produced, they are run through series of extensive aerodynamic tests within the "ITR," an indoor test range located deep within Titleist's custom golf ball facility. You would need a map to find it. Once those tests are complete, they repeat the same tests two more times.
"And while you can do a lot of testing indoors, you have to validate it outside, because golf is an outside game," Hogge says. "Once we've gone through the initial screening process, we start to take a deeper dive on what we think might have real promise and then spend a lot of time iterating within those designs. When we think we have something, we marry it up with different constructions that our other teams have been working on, and then start to hit them outside."
"Outside" begins at Titleist's Manchester Lane Test Facility, just down the road in Acushnet, Mass., as well as the Titleist Performance Institute in Oceanside, Calif., where robotic golfers test each prototype, providing exacting measurements that even the best swings in the world can't duplicate. In these tests, the variables related to how a golf ball is struck are eliminated, providing results that truly identify the relative performance of various products. Pass those trials, if you're a prototype, and you're likely headed for a white box, ready for human testing.
The driving range at TPC Summerlin does not look much different today than it did the week of the 2000 Invensys Classic at Las Vegas, more than 16 years ago. It was here, on Monday, Oct. 9, 2000, where the original Pro V1 golf ball appeared in white boxes, available to PGA Tour players to use in competition for the first time.
In the months leading up to that event, members of the Titleist Golf Ball R&D, Leadership and Executive teams set out on what became known as the "100 Man March," with the objective of testing the Pro V1 prototype with at least 100 tour pros. They walked with many players during tournaments practice rounds, asking them to hit shots side-by-side with their current model (most likely a Titleist Professional or Titleist Tour Balata) and provide their feedback.
While the reviews were promising, expectations within Titleist headquarters remained modest. Mac Fritz, Senior Vice President of Tour Promotion for Titleist, was tasked with placing the golf ball orders for the Invensys Classic, with Pro V1 scheduled to hit the USGA conforming list that week. He went with about 60 dozen Pro V1. That would account for about 20-25 players immediately converting to the new ball, he thought.
TO THIS DAY, THERE HAS NEVER BEEN A GREATER SHIFT
IN EQUIPMENT USAGE AT A PGA TOUR EVENT.
"I missed the forecast by about 50 percent," says Fritz. By Tuesday afternoon in Vegas, the word was out and so was his stock.
"Players would come in the locker room and say, 'Hey, I'm definitely going to play Pro V1 this week,' and I would say, 'OK, well, hang on a second,' " says Fritz. "Then I'd go over to two other players I'd already given dozens to and snag a couple sleeves from each of them. We had guys going to the first tee with half-empty boxes."
Fritz kept clear of Davis Love III, knowing his stash was closely guarded. "I remember one player who played a different brand trying to steal them out of my bag on the range because there was so much buzz about it," Love says.

THE LAUNCH OF THE FIRST PRO V1 GOLF BALL
It was about three months earlier that Fritz boarded a plane with a white box full of 12 prototypes in his carry-on, and a straightforward request from Golf Ball R&D reverberating in his head: "Please return with all 12." Fritz, along with a couple members of the Golf Ball R&D team, including Fordie Pitts, were headed to Sea Island, Ga., to introduce the new ball to Love and perform some extended on-course testing.
They met at Ocean Forest Golf Club, near Love's home on next-door St. Simons Island. Love guided them out to the middle of the course, stopping around one green to test short-game shots, particularly a specific type of flop shot that he liked to hit. Eventually, they found themselves on a hole with a cross ditch about 340 yards from the tee. Fritz walked to the end of the fairway, about 300 yards out. Pitts stayed on the tee with Love, who pulled a Titleist 975D 6.5º driver from his bag.
"I told Fordie to raise his right hand when Davis was hitting (his current ball, a Titleist Professional), and left hand when he was hitting Pro V1," Fritz says. "I remember the Pro V1's rolling up to my feet at the end of the fairway. The Professionals didn't come close."
The shot was into a slight breeze, so Love was teeing the ball down and hitting his "into the wind shot." It was the type of shot Love was accustomed to hitting with the Professional, knocking down the spin in order to maximize distance off the tee.
After about six shots with each ball, Pitts suggested that Love "tee it high and let it fly" with Pro V1. Pitts raised his left hand in the air, then watched the Pro V1 sail over Fritz's head, into the ditch. Next into the ditch was Love, who dug through the mud trying to find what would soon become the first lost Pro V1.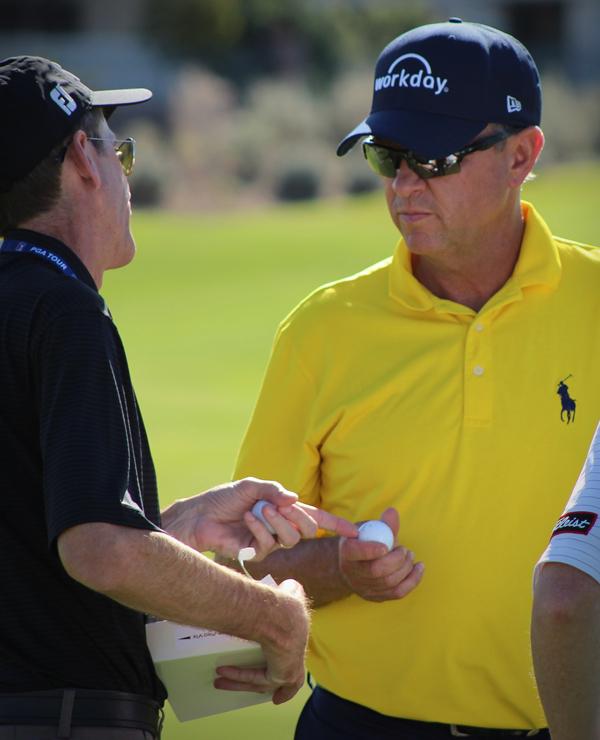 Fritz returned home with 11 golf balls. Love returned to the ditch the next day with his son, Dru, to keep looking for the twelfth.
"We all went looking for it. Because, there's one, you know where it is, and you could have it to goof around with, and we wanted to try it," Love says. "It was just an exciting time. You knew you had something that was going to make a difference in your game, and that's always fun."
Three months later, when Pro V1 debuted in Vegas, Love was one of 47 players who put it immediately in play, Fritz having made the absolute most of his limited stock. To this day, there has never been a greater shift in equipment usage at a PGA Tour event.
I
t's 7 o'clock Wednesday morning at the 2016 Shriners Hospital for Children Open, just minutes away from the start of the pro-am tournament. Jimmy Walker's caddie, Andy Sanders, walks up to the 10th tee, lowers the staff bag from his back and rests it on the ground. He reaches into a side pocket, where there are a couple white sleeves filled with 2017 Pro V1x models.
A day earlier, Fordie Pitts joined Walker out on the course for an initial trial session with the final prototype. Following more than a year of testing and feedback, hundreds of shots with unidentified prototypes, this ball was complete with the familiar Titleist Script, play number, and Pro V1x sidestamp. A couple holes later, after hitting his second shot at the par-5 fifth to about 12 feet, Walker looked over at Pitts and nodded, confirming that he'd be putting the ball in play Thursday.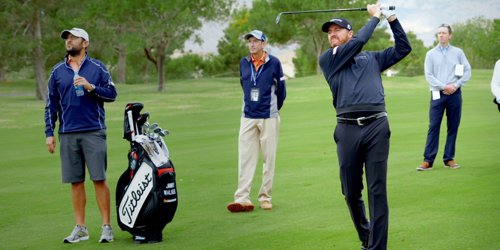 Around this same time, about 20 miles across town on the other side of the Vegas Strip, Ben Clabaugh, a financial services professional who plays as much golf as he can, checked his mail to find a small, cardboard box, just about the size of a sleeve of golf balls. He ripped open the box to reveal a plain, white sleeve filled with three Titleist golf balls with a black play number and "TEST" sidestamp. Included was a note from Titleist R&D, encouraging him to "test these golf balls along with the golf ball you play most often."
More than 80,000 golfers from countries around the world, all members of Team Titleist, received a similar package and note last November. While the note did not divulge the exact objectives of the test, Clabaugh, like many of his fellow test participants, knew it was no different than what was happening on the PGA Tour. The final validation process for the new Pro V1 and Pro V1x golf balls for 2017 had begun.
The next day, Clabaugh pulled into the parking lot at Boulder Creek Golf Club, just outside Las Vegas, not too far from the Hoover Dam. He loaded his clubs onto a cart, drove to the range to hit a few balls, then rolled up to the first tee of the El Dorado, one of club's three nine-hole layouts.
"I CAN'T BELIEVE HOW FAR THAT CARRIED.
THAT'S DIFFERENT."
- Ben Clabaugh, Team Titleist Member
On the first hole, a par-5, he followed a first-shot-of-the-day type of drive with a 3-wood that went further than expected, stopping just in front of the green. "Really, 275 yards? Hmm," he said, looking back down the fairway. He pitched on and rolled the Pro V1 prototype in for birdie. Later, after striking his tee shot into a slight headwind on the par-3 7th, Clabaugh immediately shook his head and said, "Short." But the ball kept going, sailing over a right greenside bunker and landing just in the short rough, 10 yards from the pin.
"I can't believe how far that carried," he said. "That's different."

I
t's early Monday at the 2017 Farmers Insurance Open, still not a tour player in sight. Todd Harris, in a back corner of the players' locker room at Torrey Pines, is taking inventory of stacks of boxes. One stack is clearly different from the rest, distinguished by the white packing tape that holds each of the boxes together.
When Pro V1 and Pro V1x golf balls leave Titleist headquarters en route for the PGA Tour, they are specially packed and sealed with white packing tape. Harris inspects every box to make sure the white packing tape has not been compromised in transit. If a seal is broken, that box is returned to Massachusetts.
A few hours later, Billy Horschel arrives at Torrey Pines. He enters the locker room, finds the locker with his name on it and flips open the door. Inside, there are three dozen golf balls. The boxes are clearly not plain or white. He holds one of them out with his left hand and snaps a picture with his iPhone. He then tweets the picture, with a message.
Two days later, at the 2017 PGA Merchandise Show in Orlando, Fla., Michael Mahoney, Titleist's Vice President of Golf Ball Marketing, walks on stage to more than 1,000 people gathered inside the Linda Chapin Auditorium at the Orange Country Convention Center.
"Today, we couldn't be more excited to introduce New Pro V1 and Pro V1x," Mahoney says, "The best performing and most advanced golf balls we've ever made."
At the same time, at golf shops around the country, golfers are walking in to find new 2017 Pro V1 and Pro V1x sitting on the shelf for the first time.
In every box, 12 golf balls, the end of one journey, and the start of another.